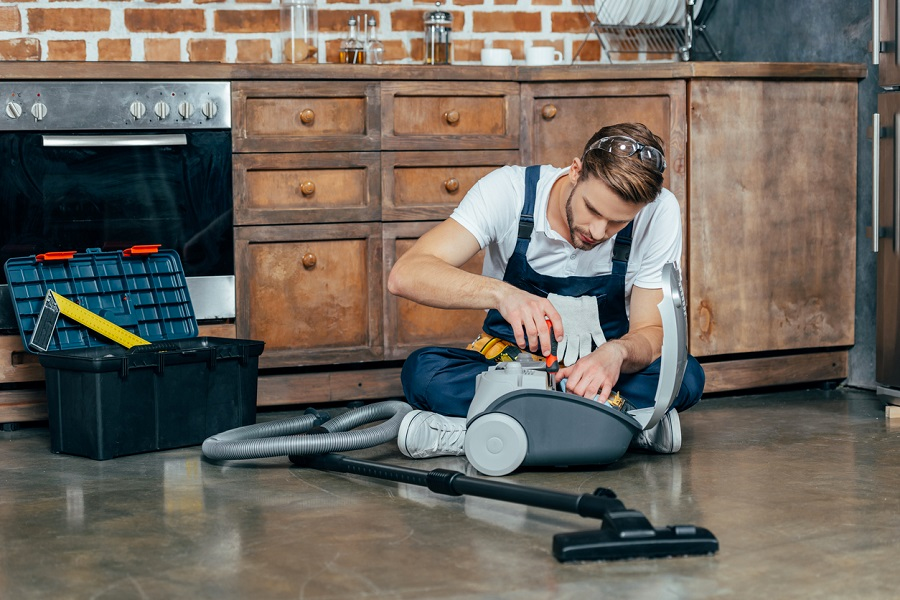 How Often Should I Service my Vacuum?
Think of your vacuum like a car. Most of the time it's gonna be smooth sailing with no hiccups, especially if the model is brand new. But over time, like a car engine, filters can accumulate dust and other debris making your vacuum perform less than its best until it doesn't perform at all. Vacuums can be a bit of an investment, similar to a car, and aren't so easily disposable where you can just buy a new one every time it breaks down. Because of this, it's terribly important that you keep an eye on the state of your vacuum cleaner.

How Often Should I Service my Vacuum?

The recommended amount of time you should give your vacuum cleaner a little TLC is every 12 months. However, there are definitely signs and symptoms to look out for that may indicate that you may need to look into it much sooner.

Signs You May Need to Service Your Vacuum

Your Vacuum may be cutting out or simply have no power at all. This could be due to overheating or a much deeper problem.
Loss of suction is another telltale sign, especially if you have already performed standard routine maintenance.
Unusual noises or rattling can indicate that you may need to get your vacuum checked out. If it's whirring much louder than usual or seems to be rattling out of control, definitely take your vacuum to get checked out.
Irregular smells are certainly a bad sign, particularly if you notice a burnt smell coming from your vacuum. You really shouldn't smell anything from your vacuum cleaner, and burning is never a good thing.
In addition to a concerning burning smell, you may notice your vacuum getting uncomfortably warm. Overheating is not unheard of, and shouldn't be put off if you notice this.

What to Consider When Choosing a Vacuum Repair Service

When you've established that a repair service is in order, you've got to consider the following items before bringing your vacuum into the shop in question…

Is the repair shop run by licensed electricians? Do your research! See if the place you're considering has any proof of licensing in their shop or online!
Is the repair team staff of seasoned professionals?
Does the repair shop use genuine parts over generic ones? This will determine the price, but, as they say, you get what you pay for.
Does the repair shop offer any kind of warranty? Be sure to research this online or ask over the phone. A professional repair shop will have a warranty on the service because of their confidence in their work. A place trying to take your money and run wouldn't.
Is the shop you are considering authorized to repair your specific brand of vacuum? If your vacuum cleaner came with its own warranty, you may want to seek out that specific store or manufacturer it came from to get the best service possible.
Compare costs. Do some research and compare the costs of repairs. Each place you look into will have its own list of charges, and some shops will charge based on the hours needed to repair your vacuum. Also consider that if they use genuine parts, it will be more costly, but in the end, you may not have to return for a repair until the following year.
What a Vacuum Repair Service Should Include

An External Check
Seeing that there is no external damage to your vacuum.
Any damage or defects to the power plug.
Be sure that any buttons or other controls operate as designed.
Maintenance
Seeing that the bag or filter is replaced.
An inspection of the belt. A defective or out-of-place belt can affect the motor and result in overheating.
Standard cleanup including disinfection and deodorization.
A high-pressure clean-through.
A Mechanical and Electrical Check Up
A thorough search through the mechanism for any defects or noticeable problems.
Filters are either replaced or cleaned.
A check-up on hoses for any leaks or potential tearing.
A routine performance check-up.
Seeing that the wiring and fuses are not damaged and are operating as intended.
A thorough motor inspection and replacement if needed.
An inspection of the flexible chord.


It is imperative to perform regular maintenance on your vacuum cleaner and a yearly repair inspection to keep the model performing at its peak. Filter replacements and disposal of debris should be a regular practice if you are using your vacuum frequently. When the signs of a repair come to be or it has been about 12 months of usage. Search for the vacuum repair shops in your area, compare prices and services, and see what is best for you! For best results, pay attention to your vacuum and become familiar with its normal performance so you can catch bad signs sooner! Refer to this article should you need any help understanding unhealthy vacuum symptoms and what to expect out of a vacuum repair service!
Be sure to speak to one of our expert reps to help you with further assistance
:
703-997-9292
You can visit us at:

11110 Lee Highway, Fairfax, VA 22030 (in Fairfax City, VA) or
300 Fort Evans Rd, Suite 104, Leesburg, VA 20176 (Town of Leesburg, VA)
#vacuumrepair #vacuumservice #cleanair #cleanhomes #vacuumfix #vacuumblog #vacupedia #shoplocal #acevacuums