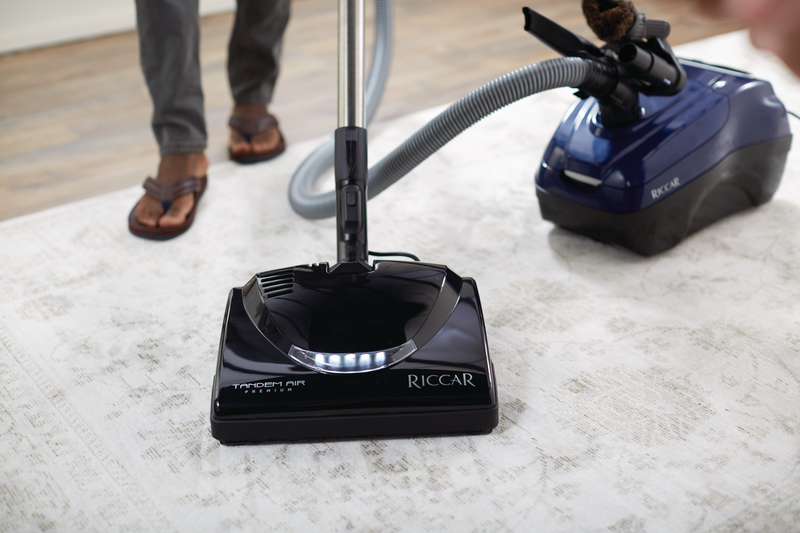 Riccar Vacuums: American Made
Whether it's patriotism, a desire to help our local small businesses or believing products made in the USA are of higher quality – an increasing number of consumers want to see just that: "Made in the USA." There's no difference between those shopping for clothing or computers, it's considered a badge of honor by the consumers and the manufacturers to buy and produce products that are made in the USA. When it comes to our automated cleaning tools, it's becoming increasingly difficult to find vacuums made in the USA.
Vacuums Made in the USA

Especially in recent years, the main reason for the growing "Made in the USA" trend is increased consumer demand for products made in America. The increasing consumer demand for American-made products is influencing some manufacturers to stop the expense-side philosophy of production and begin making products in the USA again. Some manufacturers never left, and one of them is Riccar.
Moving on, there's no question much of this increasing trend is about patriotism. Some of this made in the USA trend is the fact that it helps your neighbor have a job. However, a decent amount of the demand for the sticker that says "Made in the USA" is quality standards. We should all want to have high-quality appliances because we should have them for 20 years. Remember the line: They don't make them like they used to. Well…shouldn't they?
Ace Vacuums Sells Riccar Vacuums

Riccar vacuums are made in the United States of America. Riccar vacuums last 10, 15, 20 years – guaranteed. Riccar is a company that promises it will not sell a vacuum cleaner that doesn't meet expectations, and those expectations are high. The company pays extreme attention to the materials they use. Riccar has upright vacuums, canister vacuums, central vacuum systems, and specialty vacuums. What's Riccar's marketing strategy? The strategy is to only produce high-quality vacuums that reflect their passion for American-made. Riccar has some of the longest warranties in the vacuum cleaner industry, which guarantees you a worry-free buying experience.
One of the Riccar vacuums – the Premium R40 model – is heralded for all of the things it can do. The Premium Radiance has seven layers of filtration. The case and handle are made almost completely of stainless steel and aluminum. You can vacuum any type of floor, any type of carpet – no matter how deep – thanks to its six-level height adjustment system. Another powerful vacuum feature: it has a dirt sensor and the sensing display illuminates the cleaning path based on the sensor's readings. The Riccar Premium R40 can basically see the dirt. The tandem air technology provides powerful suction, and the 5-year warranty gives customers extra assurance on the quality of this unit. High-quality vacuums give peace of mind while enjoying the top-notch performance – not to mention the clean house to assure your baby isn't sucking up the dirt instead of your vacuum.
Riccar Vacuum Power Demo

Being Made in America has more than a patriotic meaning; it also means the parts to keep the vacuum working are in America, which streamlines their process and your experience. However, the need for parts isn't likely considering the durability and quality you receive when you buy a Riccar vacuum. Did we mention Riccar vacuums are made in the USA?
You'll never find a Riccar vacuum in a big box store, and Riccar does not spend one dime in national advertising. Riccar spends their time and money on bringing you the best vacuum on the market. Not only do you deserve cleaner living, but you save your crawling babies and toddlers the hassle of sucking up your carpet's dirt instead of your box store vacuum.
 To find out more about high-quality Riccar vacuums you must visit All Ace Vacuum – NOVA's vacuum specialists for over 20 years.
For more information on Riccar Vacuums, you can call us at:

703-997-9292
You can visit us at:

11110 Lee Highway, Fairfax
,
VA 22030 (in Fairfax City, VA) or
300 Fort Evans Rd, Suite 104, Leesburg,
VA 20176 (Town of Leesburg, VA)
#riccarvacuums #madeinamerica #american #usa #tandemair #petcarpepts #vacuumyourhome #cleanliving #tidyhome #shoplocal #riccarblog #vacuumblog #tandemairuprightvacuums #acevacuumsblog #helpsmallshops #supporyourlocalbusiness