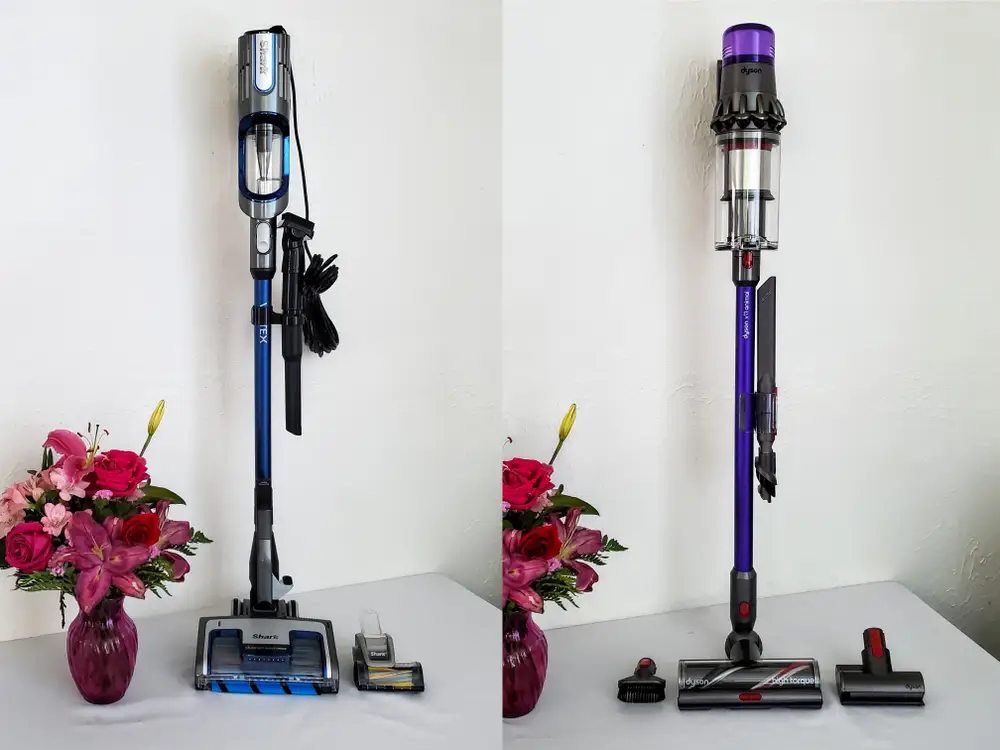 Ace Vacuums Reviews: Comparing the Latest Dyson, Shark, and Bissell Models
In today's market, choosing a vacuum cleaner from the myriad of available options can be a daunting task. At Ace Vacuums, we strive to make this decision easier for you by providing expert reviews and comparisons of the latest models from leading brands. In this blog, we delve into an in-depth comparison of the newest vacuum cleaners from Dyson, Shark, and Bissell to help you make an informed choice that suits your cleaning needs.

Dyson's Latest Innovations:
Dyson is renowned for its powerful suction and cutting-edge technology. Their latest models uphold this reputation, boasting impressive features and capabilities.

1. Dyson V15 Detect:

Laser Slim Fluffy™ Cleaner Head: Reveals hidden dust particles on your floor.

High Torque Cleaner Head: Adapts suction power across different floor types.

Piëzo Sensor: Measures and counts dust particles, adjusting suction power as needed.
2. Dyson Ball Animal 3:

Powerful Suction: Engineered for homes with pets.

Radial Root Cyclone™ technology: Captures more microscopic dust than any other cyclone.

Whole-machine HEPA filtration: Ensures allergens are trapped inside the machine, not expelled back into the home.
Shark's Versatile Range:
Shark is known for its versatile and innovative vacuum solutions. Their latest vacuums continue this tradition, offering flexibility and efficiency.

1. Shark Vertex DuoClean PowerFins:

DuoClean PowerFins: A soft roller and a powerful brushroll to clean fine dust and debris on carpets and hard floors.

Self-Cleaning Brushroll: No more hair wrap.

Powered Lift-Away®: The pod detaches to extend the reach of the cleaner head.
2. Shark Rocket Pet Pro:

Powerful Suction: Designed specifically for homes with pets.

Self-Cleaning Brushroll: Eliminates pet hair wrap.

Lightweight and Maneuverable: Easy to use and carry around the house.
Bissell's Cleaning Solutions:
Bissell combines powerful cleaning with convenience. Their latest models are designed to tackle a variety of cleaning challenges.

1. Bissell CrossWave X7 Cordless Pet Pro:

Multi-Surface Cleaning: Vacuums and washes your floors at the same time.

Pet Clean-Up: Designed to handle pet messes.

Cordless Convenience: Up to 30 minutes of cleaning time.
2. Bissell Pet Hair Eraser Turbo Plus:

Tangle-Free Brush Roll: No more hair wrap.

SmartSeal Allergen System: Traps dust and allergens.

Lightweight and Agile: Easy to maneuver around furniture and tight spaces.
Whether you're drawn to Dyson's technological advancements, Shark's versatility, or Bissell's practical cleaning solutions, Ace Vacuums has the expertise to guide you through your decision-making process.

 

Visit us or contact us at 703-997-9292 or

 

info@acevacuums.com

 

to find the perfect vacuum cleaner that meets your needs and expectations.