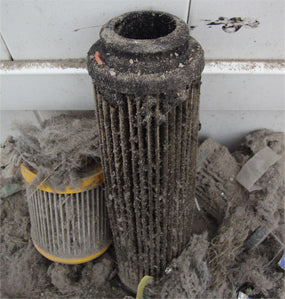 Bagless vacuum cleaners
Are you thinking about buying a bagless vacuum cleaner? Think twice before buying !!!
Important notes to know about a bagless vacuum cleaner. These days people are looking for bagless vacuum cleaners thinking it is easy to maintain. However bagless vacuum cleaners are high in maintenance and cost. It's super easy to dump out dust once in a while, but most people forget  ignore the filter which are supposed to be changed every 2-3 months. Bagless vacuums may require the filter be washed, dried, brushed or shaken out. Filters collect the dust, amongst other things. This is what they are there for. Failure to maintain the filter will cause it to clog, resulting in the reduction of air flow and suction. When a customer brings a bag-less vacuum for repair, they complain that the vacuum doesn't really pick up anything anymore or it's clogged. It is because they didn't properly maintain the vacuum cleaner. Some machines actually require you to physically change the filters every 2-3 months.
Vacuum bag acts as a filter inside the machine. It doesn't replace all of the filters, but it should minimize the dust and dirt that the other filters comes in contact with. Always make sure you are aware of the frequency that filters need to be changed and how much they cost when making a purchasing decision. The money you're saving in vacuum bags is probably going to end up being spent on filters or repairs.Have you ever taken a dirt cup out of a bagless  vacuum and seen the dust above the cup. At acevacuums our techs work on vacuum cleaners all day long. We find the bagged vacuums are easier than the bagless ones to repair as well. The best vacuum cleaner brands are the best vacuum cleaner brands don't make bagless vacuum cleaners,like Miele,Riccar, Sebo, Kirby to name a few. These companies focus on minimizing emissions from a vacuum cleaner and a bagless vacuum does not fit well with that scenario.  There are currently over 20- 40  different filters available for Bissell . Bissell vacuums are  making bagless canisters, uprights, hand helds and stick vacuum cleaners.
If you buy a bagless vacuum cleaner buy a good air purifier as well to keep the dust allergies away from your kids…
Call Acevacuums at 1 888 606 8885 for more details.