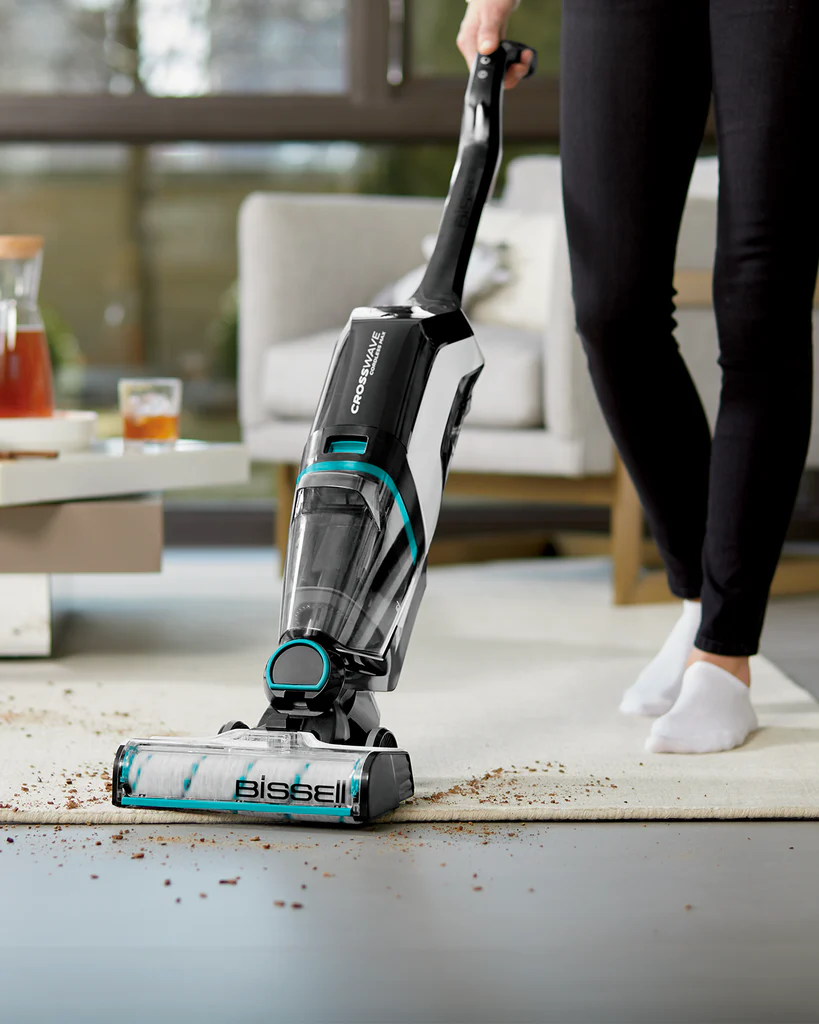 Benefits of Bissell Crosswave Multisurface Cleaner
The Bissell Crosswave is a multi-surface floor cleaner that has revolutionized the way people clean their homes. This versatile machine can clean a variety of surfaces including hard floors, carpets, and rugs, making it a must-have for every household. In this blog, we will take a closer look at the benefits of using a Bissell Crosswave.
Saves Time and Effort
: The Bissell Crosswave is designed to clean multiple surfaces in a single pass, saving you time and effort. No need to switch between different cleaning tools or manually scrub floors; the Crosswave does it all.
Multipurpose Cleaning
: The Bissell Crosswave has two brush rolls that work together to clean carpets and hard floors effectively. The brushes rotate at high speeds to remove dirt, dust, and grime from every nook and cranny, leaving your floors looking spotless.
Lightweight and Easy to Use
: The Bissell Crosswave is lightweight and easy to maneuver, making it perfect for cleaning even the toughest spaces. Its ergonomic design and swivel head make it comfortable to use, even for extended periods.
Powerful Suction
: The Bissell Crosswave has a powerful suction system that removes dirt and debris from your floors. This means you don't have to worry about streaks or missed spots, as the Crosswave leaves your floors looking clean and shining.
Safe for All Floor Types
: The Bissell Crosswave is safe to use on a variety of floor types, including sealed hardwood, laminate, tile, and more. This makes it a versatile cleaning tool for all types of homes.
Eco-Friendly
: The Bissell Crosswave uses less water and cleaning solution than traditional cleaning methods, making it an eco-friendly option for cleaning your home.
In conclusion, the Bissell Crosswave is a game-changer in the world of floor cleaning. Its multi-surface cleaning capabilities, lightweight design, and powerful suction make it a must-have tool for any household. Its eco-friendly features and ease of use make it a responsible and practical choice for keeping your home clean and tidy.
For more information on Bissell Crosswave, you can call us at:
703-997-9292

You can visit us at:
11110 Lee Highway, Fairfax, VA 22030 (in Fairfax City, VA) or
300 Fort Evans Rd, Suite 104, Leesburg, VA 20176 (Town of Leesburg, VA)


#BissellCrosswave #MultisurfaceCleaning #EcoFriendly #TimeSaving #PowerfulSuction #VersatileCleaning #EasyToUse #LightweightDesign #CleanHome #FloorCleaning #CarpetCleaning #AceVacuums #Blog #Shoplocal