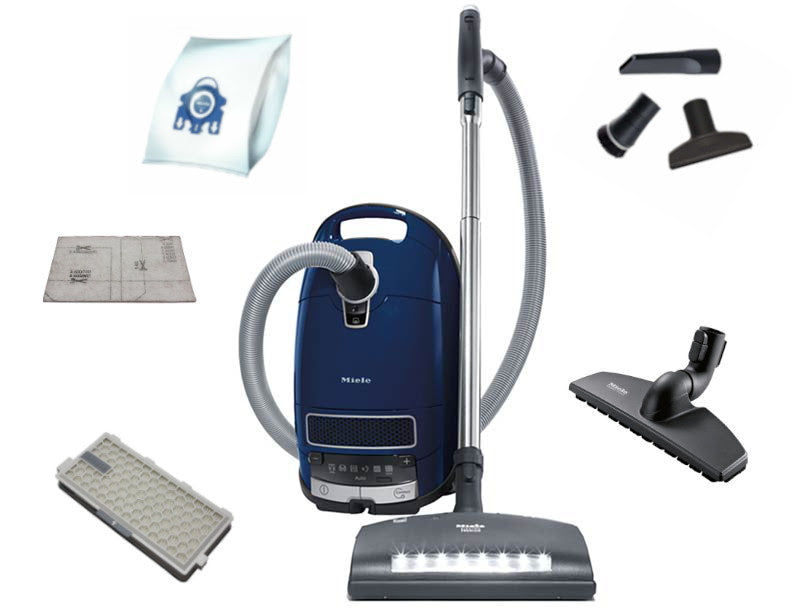 Best HEPA Vacuums 2021
There are plenty of HEPA vacuums on the market today, but how do you know which will provide the best vacuum filtration?
Allergies can be an ordeal, and the last thing you want as an allergy sufferer is to have dust and other allergens kicked up as you're trying to vacuum them out of your carpet and furniture.
To make it easier for you, we've listed our most popular picks, some of which are HEPA certified through the Asthma and Allergy Foundation of America (AAFA). Some of the items even make great pet vacuums!
Miele Marin Complete C3 Canister Vacuum
The C3 Marin Canister Vacuum uses HEPA filtration, is AAPA certified, and features a sealed air system to ensure that vacuuming is dust-free for allergy sufferers. It has six-speed settings and can be used on all flooring types. LED lights on the Powerbrush ensure you won't miss any debris as you clean low to medium pile carpeting.
The canister has a protective bumper that keeps furniture and walls scuff-free, and electronic suction control gives you just the amount of suction you need for everything from tough low-pile carpeting to delicate drapery. The flexible canister hose allows you to reach every hard-to-reach surface in your home. With the lowest setting at under 50 decibels and the highest at only 68, this is one of the quietest vacuums on the market.
Accessories:
Power Nozzle
Twister Floor Brush
Telescopic Wand
Upholstery Tool
Dusting Brush
Crevice Tool
Features & Specifications:
Warranty: 3 years
Cord length: 23 feet
Weight: 12 pounds
Bags: Yes
Capacity: 4.76 quarts
Sound level: 64 decibels
Filtration: HEPA
---
ProCare 15XP Upright Vacuum
The ProCare 15 XP Upright is perfect for all types of flooring. It's easy to adjust the brush roll settings to ensure that tiles are delicately cleaned and then ramp up the power for carpets. ProCare vacuums have an internal HEPA media filter and an organically treated Intercept Micro Filter that captures up to 99.79% of dust mites, pollen, bacteria, and chemical residue measuring 1 micron and larger.
Accessories:
3-in-1 Detail Tool
Ergonomic, Padded Handle Grip
Cleaning Wand
Features & Specifications:
14.5 inch Brushroll
Quick Release Cord
On-board Detail Tools
3-way Power Switch on Handle
Bags:

 

Yes
Cord:

 

35 feet
Warranty:

 

3 years
Weight:

 

19 pounds
Riccar Deluxe Clean Air Upright Vacuum
The Riccar R25D Deluxe Clean Air Upright vacuum has an LED headlight and large rubber wheels with 360-degree casters. Its self-adjustment feature ensures that you'll be able to quickly and seamlessly transition from bare floors to carpets. The convenient carrying handle makes it easy to transport.
This product has belt protection that stops the brush roll from turning until the jam is cleared, saving you the trouble of belt changes midway through the vacuuming process. Not only does this have HEPA filtration, but it also has electrostatic charcoal filters to provide odor filtration.
Accessories:
Crevice Tool
Upholstery Tool/Dusting Brush
Features & Specifications:
360-degree casters
Lifetime belt protection
Metal brush roll and
Replaceable, Customizable Brushstrips
LED headlight
Full bag sensor
Hose: 11 feet
Cord: 35 feet
CRI Rating: Silver
Warranty: 3 years
Weight: 19 pounds
---
Hoover WindTunnel Bagged Upright Vacuum
The Hoover WindTunnel T-Series Bagged Upright features an adjustable brush roll with five different height options and is able to handle everything from plush, high-pile carpeting to hardwood flooring. It's got a long, 30-foot reach and soft wheels that allow you to easily maneuver anywhere in your home.
It comes with 5 handy accessory tools to help you reach every inch of your home. The abundant accessories and WindTunnel technology make it a perfect match for homes with pets. HEPA media filtration captures 99.97% of dirt, dust, and debris particulates down to 0.3 microns.
Accessories:
Extension Wand
Air-Powered Hand Tool
Crevice Tool
Upholstery Tool/Dusting Brush
Stretch Hose
Features & Specifications:
Recommended for Pets
Soft wheels protect floors
Height Adjustment
Bags:

 

Yes
Hose:

 

8 feet
Cord:

 

30 feet
Warranty:

 

2 years
Weight:

 

15.9 pounds
---
For more information, please call: 703-997-9292
Email: sales@acevacuums.com
Visit us:
Fairfax Store : 11110 Lee Hwy, Fairfax : Call 703 997 9292 X 1
Leesburg Store : 300 Fort Evans Rd NE, Leesburg : Call 703 997 9292 X 2
#acevacuums #mielevacuums #riccarvacuums #hoover #oreck #bestvacuums #besthepavacuums #windtunnel #canistervacuums #uprightvacuums #simplicityvacuums #shoplocal #supportlocalbusiness