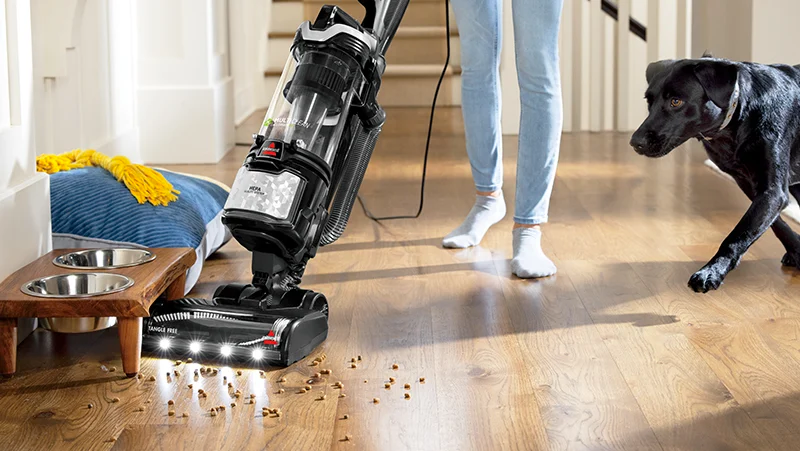 Bissell Vacuums: Innovative Technology to Make Vacuuming A Cinch
Each of Bissel's upright vacs is designed to make cleanup simpler and faster. Multi-Cyclonic Technology ensures that you'll be able to vacuum all the surfaces in the house without losing suction. Scatter-Free Technology cleans hard floors without sending kibble or cereal flying in all directions. One-touch Easy Empty dirt tanks make it easy to empty with just the push of a button, so you don't have to touch the yuck!
Upright vacuums that fit you and your lifestyle
With kids and pets underfoot, messes are sure to follow. BISSELL has a lineup of upright vacs that includes bagged and bagless options so you can find the one that's right for your busy household. Each vacuum cleaner is designed to make quick work of whole rooms and larger areas. Built-in pet features, Lift-Off 2-in-1 options, and multi-surface cleaning capabilities can tackle everything from pet hair under the couch or breakfast crumbs in the kitchen.
Bagless vacuums for streamlined cleaning

Bissell's lightweight, bagless vacuums have serious power without the weight and bulk. It's easy to carry these machines up and down the stairs and store them, thanks to their compact size. BISSELL bagless vacuum cleaners feature cyclonic technology that extends the life of your vacuum's filters, so you won't need to worry about dust and debris building up inside your machine. The one-touch dirt tank empties with the touch of a button so that you can keep it clean between uses.
Pet vacuums for furry family members
As pet parents, we know pet hair gets everywhere. If you're looking for a vacuum cleaner specifically geared toward handling pet hair and other non-living allergens that dogs and cats bring into your home, BISSELL pet vacuums are up to the task. TRIPLE ACTION brush rolls featured on BISSELL vacs lift, loosen, and remove embedded pet hair from carpets and area rugs. Swivel steering lets you navigate around furniture and other obstacles in your home to clean up wherever your pets go. And thanks to a sealed HEPA Allergen System in some vacuums, you can trap fine dust and allergens while cleaning.

#bissell #bissellvacuums #petvacuum #authorizedvacuumdealer #bissellauthorized #bissellservice #shoplocal #acevacuums