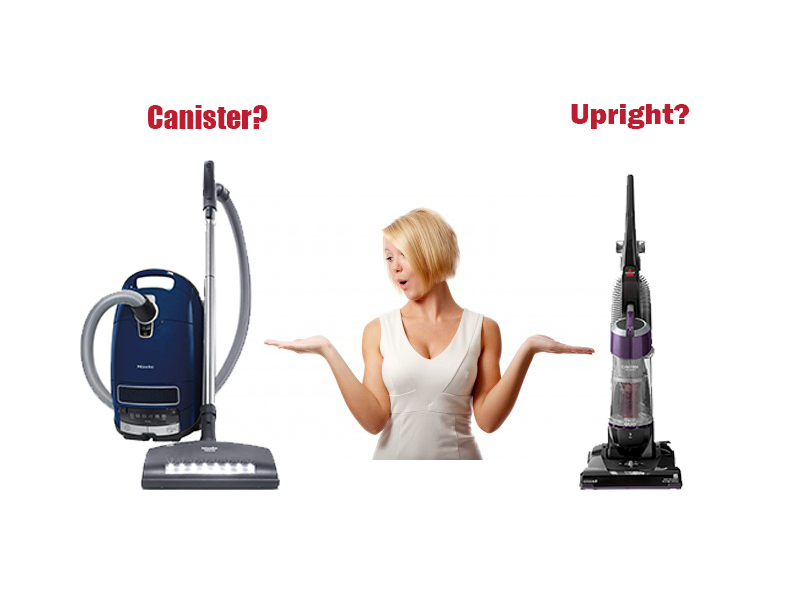 Canister vs Upright: Choosing the Right Vacuum for Your Home
Are you looking for a new vacuum cleaner for your home, but are so overwhelmed with choices that you don't know what to choose? When it comes to the right type of cleaner for your home, there is nothing better on the market than upright or canister vacuums. But you'll need to know about both of these vacuum types if you're going to choose between them, so here's a little buying guide. Let's begin with the unique features that define canister vs upright vacuum cleaners.
First of all, both types of vacuum cleaner models may come bagged or bagless, corded or cordless, have a HEPA filter and an air purifier, and come with accessories that enable them to do a total cleaning job.
Canister Vacuum
A canister vacuum has a canister body unit that is attached to a powerhead via plastic tubes and hoses. The body unit, where the motor and the dirt/bag container are kept, wheels around and can be carried with ease. The vacuum head has powerful suction, can be extended with attachment tubes, and can vacuum places that regular vacuums can't reach. Its unique design offers a great range of flexibility and maneuverability for cleaning more than just floors, but also upholstery and beneath the furniture. Its shape makes it a lightweight carry. However, this design also makes it awkward to store, as it can be quite bulky. It's ideal for hard floors, rugs, staircases, small and furniture-heavy rooms.
Upright Vacuum
Upright vacuums are the most popular type of home vacuum cleaner on the market, and it's exactly what it sounds like. With an upright vacuum, the dirt/bag container and motor are directly attached to the power cleaning head, as one whole unit. While many upright vacuums have self-propelling features for an easy glide over your floor surface, the unit may feel heavier than a traditional canister vacuum due to the fact that all the components of an upright vacuum cleaner are bulked into one unit. However, the lean and vertical design of uprights makes them easy to store, especially when you have limited storage space. Also, its linear design is ideal for people who have health problems that stop them from bending over, like they would with a canister vacuum. Upright vacuums are best for carpets, large rooms, and open spaces. They come with various accessories that turn the canister vac into a cleaning tool for the entire house.
How to Choose Between a Canister and an Upright Vacuum Cleaner?
Choosing between the two vacuum cleaner types doesn't have to be a difficult ordeal. It all comes down to the type of home you have, the type of floor you have, and your preference for weight, shape, and your house cleaning routine.
When to Choose a Canister Vacuum Cleaner
If you have a house with stairs, nothing will get the job done like a canister vacuum. The power suction head can be extended away from the vacuum body unit to get to places that uprights can't reach., i.e. tightly around furniture, beneath furniture, above furniture, and upholstery. Most are lightweight and easier to carry, which is ideal for moving around a house that doesn't have a lot of open space. They also tend to be less noisy than upright vacuums, since the canister body insulates the motor well enough to reduce the sound. A canister vacuum cleaner is ideal if you have a house with mostly hard floors and the right amount of storage space to store them afterward.
When to Choose an Upright Vacuum Cleaner
If you have a large house with open spaces and a lot of carpets, nothing glides across your home floors as great as an upright vacuum. They are better than canisters for doing quick clean-up jobs since they take less work to set up and begin using. Uprights are perfect for easy maneuvering over wide floor spaces and are easy to push around due to their single-unit, upright design. This type of vacuum is better than a canister for people who have back or other health problems that prevent them from bending over, which is often required with canister vacuums. An upright vacuum is ideal if you have a one-story house, with more open space and a lot of carpets. It's also best for people who prefer to clean while standing.
For more info – 
You can call us at:
703-997-9292
You can visit us at:
#canistervsupright #vacuumforyou #cleaningmachine #vacuumdeepclean #vacuumtips #maintainvacuum #vacuumrepair #vacuumservice #dysondealer #yourvacuumrepair #vacuumrepairshop #novavacuum #vacuumrepairservice #samedayreapair #shoplocal #supportlocalbusiness #cleanvacuum #maintainyourvacuum