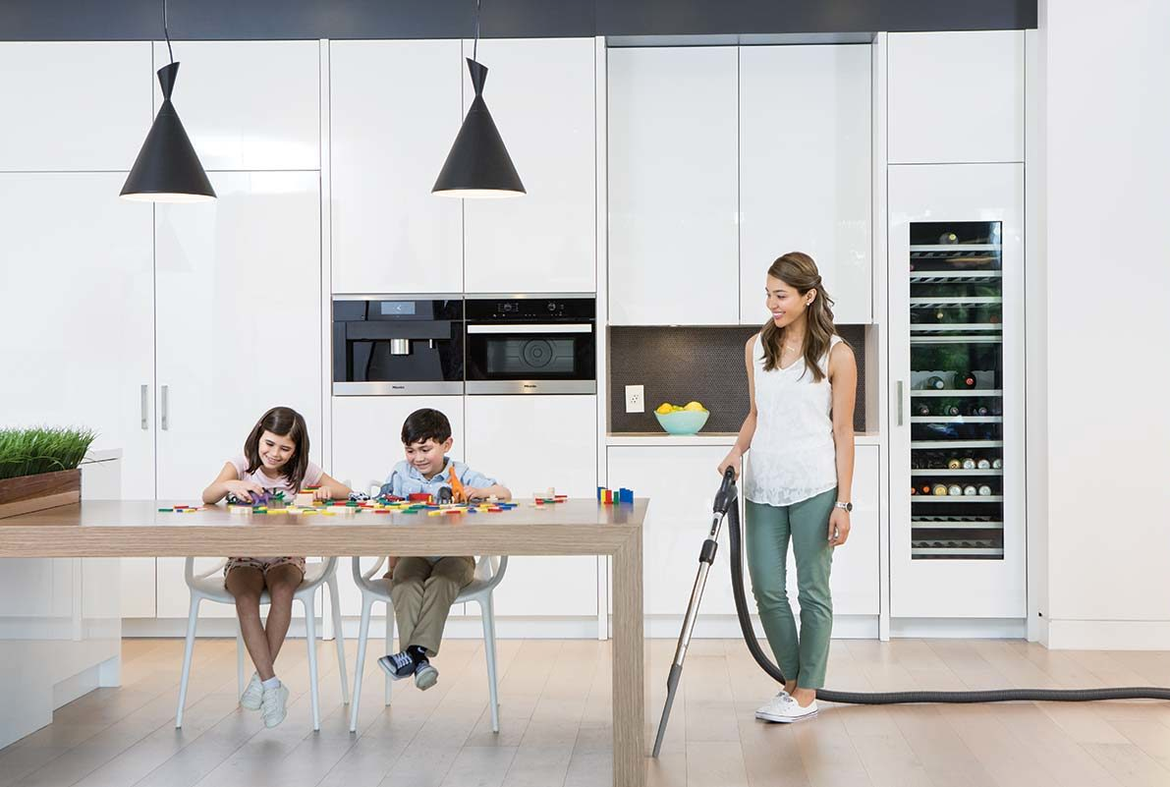 Central Vacuum System Advantages
Vacuuming with a portable vacuum cleaner can be inconvenient, smelly, noisy, and often costly. Due to this, vacuuming is the most unwanted chore in the house. That is why installing a central vacuum can be the answer to all of your concerns and problems.
Central Vacuum Cleaners

Dragging a vacuum cleaner up and down the stairs and trying to navigate between the furniture will annoy most. With a central vacuum system, vacuuming will become easy and enjoyable. Moreover, central vacuum systems are superior to regular vacuums in many ways.
Most people aren't even aware of central vacuums as an option or the benefits a central vacuum can provide. This article will go through our top 6 reasons why you should upgrade to a central vacuum system.
Central Vacuum System Advantages

A central vacuum system makes vacuuming easy. The system itself is also straightforward to use. Central vacuum cleaners keep the garbage bin and the motor in one place, usually the garage or the basement. Thus, you are not dragging and pulling the entire vacuum cleaner or tangling the long power cords. The only thing you need is the vacuum hose and the proper attachments.
Cleaner Air, Reduced Allergies
With a central vacuum system, you can effectively reduce the polluted air and allergens in your home. The reason for this is the central power unit. The central system extracts all the dirt, dust, and allergens in the basement and then exhausts them outside. Whereas regular vacuums often recirculate the same dust and allergens back into your home through their exhaust.
The central vacuum can be very beneficial to those who suffer from allergies. Furthermore, because of their powerful performance abilities, central vacuum systems can improve indoor air quality and help alleviate various respiratory problems.
There is nothing worse than a noisy vacuum cleaner. However, with the central vacuum system, the extra power doesn't mean more extra noise. Actually, it's the opposite. The motor, which is the primary source of the noise, is located in the garage or basement, muffling the noise.
The hose and the attachments are considerably quieter. Therefore, your better half can sleep while you vacuum or your children can study without distractions. Moreover, you can talk on your phone while vacuuming or even watch and listen to the news without having to turn off the vacuum.
From electric power brushes, and crevice tools to air turbine brushes, a central vacuum system has many versatile floor tools that make it easy to clean any surface. Central vacuum systems can be used on carpets, upholstery, hard surfaces and reach different places around the house more effectively and efficiently.
Since central vacuums come with stationary motors, you can choose a more powerful version than regular vacuum cleaners. With a powerful motor, you will be able to collect more dust, dirt, and debris than ever. Furthermore, a powerful central vacuum can be especially beneficial if you have pets. Managing pet hair with a regular vacuum can be a nightmare.
Most of all, having a central vacuum is convenient. No more dragging a vacuum cleaner from room to room and up and down the stairs. No more using special brushes for pet hairs or worrying whether the dust is collected or just spread around onto different areas of the room.
Central Vacuum Systems

No ordinary vacuum lasts longer or performs better than a central vacuum. Furthermore, a central vacuum simplifies the vacuuming process and makes it a bit more enjoyable. Long term, not only do you save a lot of money, but you also add value to your property.
If you are interested in a central vacuum system, head over to our vacuum store. 
Ace Vacuums offers different central vacuum kits and can handle any installation. Our experts can answer all of your questions in detail.
If you are looking to learn more about central vacuum systems in Virginia, feel free to contact us at
Ace Vacuums
. A professionally installed system can last decades and has many benefits such as improved indoor air quality and convenience. We are proud to offer VACUFLO and MD Central Vacuum Systems as they are backed by an industry-leading lifetime warranty, that lasts for as long as you own your house! In addition to air quality and convenience, a central vacuum system offers great value and can help increase your home value. As certified VACUFLO and MD Central Vacuum System installers, our team can easily retrofit into existing builds.
Be sure to speak to one of our expert reps to help you with further assistance.
#centralvacuum #install #cleanhome #easytouse #webuitcentralvacuum #system #wholehouse #vacuum #mdcentral #vacuflo #cleanair #cleanmax #riccar #nutone #vacumaid #tips #advantages #vacuumadvice #vacuumblog #cleaningneeds #acevacuums #shoplocal