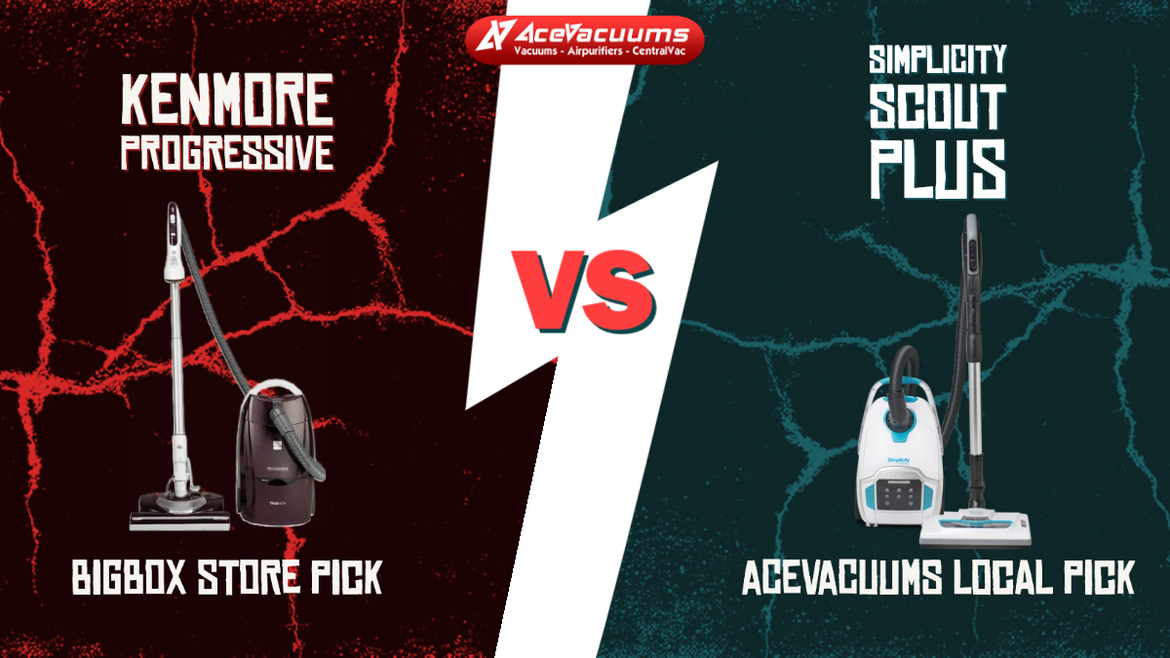 Consumer Report 2023 Best Canister Vacuum: Big Box Kenmore Progressive Vs Local Vacuum Store Simplicity Scout Plus. Which Should You Buy?
At Ace Vacuums, we take pride in selecting only the best vacuum cleaners for our customers. In this comprehensive comparison blog, we'll explore the consumer reports 2023 pick, the Kenmore Progressive, and our local vacuum store pick, the Simplicity Scout Plus. Join us as we delve into the features, performance, and overall value of these two exceptional vacuum cleaners.

Simplicity Scout Plus: Ace Vacuum's Local Store Pick

Unleash the Power of Simplicity: The Scout Plus, our local store pick, impresses with its superior cleaning capabilities. With powerful suction and advanced features, it effortlessly eliminates dirt, dust, and debris from carpets, hard floors, and other surfaces, ensuring a spotless home.

Innovative Design and Versatility:

 

The Scout Plus is a master of versatility, effortlessly transitioning between different floor types. Its lightweight design and maneuverability make it easy to navigate around furniture and reach tight corners, providing a thorough cleaning in every nook and cranny.

Advanced Filtration for a Healthier Home:

 

Equipped with advanced HEPA filtration, the Scout Plus ensures that even the tiniest particles, including allergens and pet dander, are trapped and contained. This promotes a healthier indoor environment, particularly for those with allergies or asthma.

Durability and Reliability:

 

Simplicity has a well-established reputation for producing durable and reliable vacuum cleaners, and the Scout Plus is no exception. Built to withstand the demands of regular cleaning, this vacuum will be a long-term investment in maintaining a pristine home.

Kenmore Progressive: Consumer Reports 2023 Pick

Solid Performance and Suction Power:

 

The Kenmore Progressive, a consumer reports 2023 pick, demonstrates commendable suction power and overall performance. It effectively captures dirt and debris, leaving surfaces cleaner and fresher.

Multi-Surface Cleaning Capability:

 

With its ability to tackle various floor types, the Kenmore Progressive offers versatility in cleaning different areas of your home. Whether it's carpets, hard floors, or area rugs, this vacuum can handle it all.

Enhanced Filtration for Cleaner Air:

 

The Kenmore Progressive features reliable filtration systems that help improve air quality by capturing and trapping allergens and dust particles. This is particularly beneficial for individuals with respiratory sensitivities.

User-Friendly Features:

 

Equipped with convenient features like adjustable height settings, easy-to-use controls, and a user-friendly interface, the Kenmore Progressive ensures a hassle-free cleaning experience for its users.

Why Simplicity Scout Plus Reigns Supreme:

Unmatched Cleaning Performance:

 

The Simplicity Scout Plus outshines the Kenmore Progressive with its exceptional cleaning power, efficiently removing even the most stubborn dirt and debris from all surfaces.

Innovative Design and Maneuverability:

 

The Scout Plus's lightweight design and exceptional maneuverability make it effortless to navigate through your home, reaching every corner for a thorough clean.

Advanced Filtration for a Healthier Home:

 

With its HEPA filtration system, the Scout Plus goes the extra mile to capture and trap allergens and fine particles, providing a cleaner and healthier living environment.

Longevity and Dependability:

 

Simplicity's commitment to durability and reliability ensures that the Scout Plus will remain a trusted cleaning companion for years to come.


While the Kenmore Progressive is a commendable vacuum cleaner, the Simplicity Scout Plus takes the crown with its superior cleaning performance, innovative design, and advanced filtration capabilities. Ace Vacuums proudly recommends the Scout Plus as our local pick.


#SimplicityScoutPlus #KenmoreProgressive #VacuumComparison #CleaningTitans #SuperiorCleaning #AdvancedFiltration #InnovativeDesign #VersatileCleaning #HealthyHome #DurabilityandReliability #AceVacuums #ConsumerReports #LocalStorePick #CleaningPerformance #Maneuverability #LongLastingCleaningCompanion #ConsumerReports2023