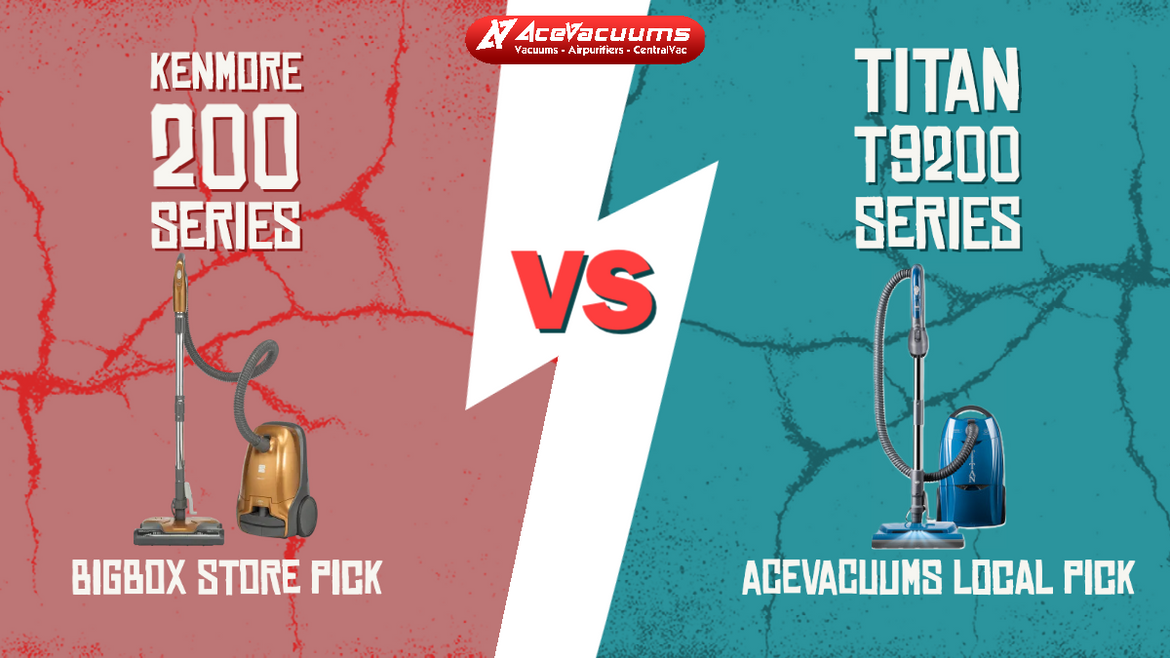 Consumer Report 2023 Best Canister Vacuum: Big Box Kenmore Vs Local Vacuum Store Titan. Which Should You Buy?
When it comes to purchasing a new canister vacuum cleaner, consumers are faced with a plethora of options. Two popular choices in the market are the Kenmore 200 Series 81214 and the
Titan T9200 HEPA Canister
. In this blog, we will compare and contrast these two models, highlighting their pros and cons. While both vacuums have their merits, we believe that the
Titan T9200 HEPA Canister
, available at Ace Vacuums, is the superior choice. Let's dive into the details!
Kenmore 200 Series 81214:
Pros:
Trusted Brand: Kenmore has been a renowned name in the appliance industry for decades, known for its reliability and quality.
Lightweight Design: The Kenmore 200 Series 81214 is lightweight, making it easy to maneuver and carry around the house.
Multiple Surface Cleaning: This model comes with various attachments and tools that allow for efficient cleaning on different surfaces, including carpets, hardwood floors, and upholstery.
Affordable Price: The Kenmore 200 Series 81214 offers good value for its price range, making it a budget-friendly option.
Cons
:
Limited Suction Power: Some users have reported that the suction power of the Kenmore 200 Series 81214 is not as strong as they expected, which may impact its performance in heavily soiled areas.
Small Dustbin Capacity: The dustbin of this model is relatively small, requiring frequent emptying during cleaning sessions.
Titan T9200 HEPA Canister:Pros:
Powerful Suction: The Titan T9200 HEPA Canister boasts exceptional suction power, capable of effectively removing dirt, pet hair, and debris from various surfaces.
HEPA Filtration: This vacuum features a HEPA filter that captures 99.97% of particles as small as 0.3 microns, ensuring cleaner and healthier air quality.
Large Dust Capacity: With a generous dustbin capacity, the Titan T9200 allows for more extended cleaning sessions without the need for frequent emptying.
Versatile Cleaning Options: Equipped with a power nozzle and various attachments, this vacuum excels in cleaning carpets, stairs, upholstery, and hard-to-reach areas.
Cons:
Higher Price Range: The Titan T9200 HEPA Canister is priced slightly higher than the Kenmore 200 Series 81214, but the additional features and performance justify the investment\
Why Choose the Titan T9200 HEPA Canister from Ace Vacuums?
At Ace Vacuums, we believe that investing in the Titan T9200 HEPA Canister is a wise decision for several reasons. Firstly, this vacuum offers superior suction power and HEPA filtration, ensuring a thorough and allergen-free cleaning experience. Its larger dust capacity and versatile cleaning options make it suitable for larger homes and a variety of surfaces. Additionally, by choosing to support a local vacuum store like Ace Vacuums, you contribute to your community's economy and receive personalized assistance and expert advice.
To purchase the
Titan T9200 HEPA Canister
at a special discounted price, visit our website
acevacuums.com
, or contact us directly at 703-997-9292 or via email at info@acevacuums.com. Our knowledgeable team will be delighted to assist you in finding the perfect vacuum for your needs.
#AceVacuums #ShopLocal #SupportLocalBusinesses #TitanT9200HEPA #CanisterVacuum #CleanHome #HealthyLiving