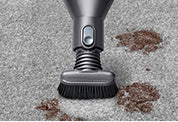 Dyson V6 Baby Child vacuum cleaner
The all new Dyson V6 Baby + Child innovation cord free vacuum model 216860-01 is available at Acevacuums.com. Awesome for quick clean ups.
It is lightweight as most handhelds are, but don't let that fool you. The power and suction makes it better than any other vacuum in the market. There are many tools included to get every space and crevice. Works great on steps and inside the car. Awesome for quick clean ups. Easy to attach and remove tools. One quick button to empty the canister. Charge time is quick and has a long battery life. What an awesome handheld.
Powered by Dyson digital motor V6
The most powerful handheld vacuum.
2 Tier Radial cyclones
Captures microscopic dust and allergens.
Wide nozzle tool
Removes dirt and allergens from bedding and upholstry.
Stiff Bristle Brush
Stiff nylon bristles dislodge dried mud from messy days out.
Combination tool
Debris nozzle for capturing loose crumbs. Retractable brush for vacuum assisted dusting
Fade-free battery
Suction starts strong and stays strong – for the duration of its charge.
Up to 20 minutes of powerful fade-free suction
The run-time enhancing trigger means that battery power is only used for vacuuming.
Max mode
Increases suction for more difficult tasks.
Cord-free and ergonomically designed
Cleans all over the home and beyond. Light and balanced for easy handling.
Hygienic bin emptying
With the touch of a button.