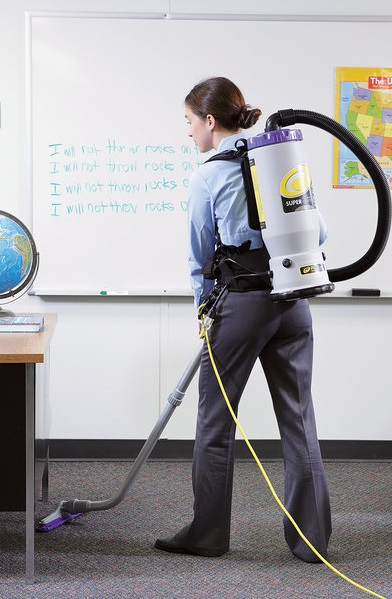 EVERYTHING YOU NEED TO KNOW ABOUT COMMERCIAL BACKPACK VACUUMS FOR YOUR BUSINESS
How well you take care of your business is reflected in how clean it is. Clean and hygienic operations are better for your client's health and well-being as well as make your establishment more visually appealing.
Maintaining a clean workplace is an essential element of operating a successful company. In addition to being a representation of your company's core values, a spotless workplace is safer and healthier for everyone who enters it. The tools you'll need on-site to complete the project are something you'll want to give some attention to.
Backpack vs. Upright Vacuums

A decent vacuum cleaner is a must, but should you get a backpack type or go with a standard floor model? Commercial backpack vacuums are becoming more popular over canister or upright vacuums in small spaces because they are light, easy to use, and easy to move around.
The productivity of backpack vacuum cleaners has been shown in multiple tests to be four times greater than that of typical upright machines. On the right hand, a backpack can replace four or more uprights, cutting down on dust, making maintenance easier, and getting better results.
Due to the motors, beater bar, housing, bag, and other parts that make a traditional upright work, it usually weighs between 25 and 40 pounds. An upright vacuum cleaner's back-and-forth action limits the range of motion, putting the user at risk of carpal tunnel syndrome and another wrist, elbow, and shoulder injuries in the process. You will have to use more effort to move or hoist an upright if you don't keep it empty at all times.
Who Uses Commercial Backpack Vacuums?

There are no longer any excuses for not being able to clean all of the hard-to-reach areas in your office, whether they're blinds, bookshelves, cubicles, or anything else. Designed with industrial cleaners in mind, commercial backpack vacuums are supposed to be both convenient and pleasant to operate. If you're looking for a fast and efficient way to clean, a backpack vacuum is your best option.
Backpack vacuums can be used for a wide range of commercial and industrial cleaning jobs, from tight spaces to big jobs that need more mobility and flexibility. The following are some typical applications for a backpack vacuum cleaner.
Cleaning Services

For special cleaning services, keeping floors clean is a key part of making sure clients are happy. Pet hair and dust are constant problems in any setting, but this is particularly true for those with pets. These cleaning services use industrial backpack vacuums instead of a regular upright vacuum or sweeper because they are more powerful.
We recommend the Tornado Pac-Vac Aircomfort Backpack Vacuum, which is available for less than $500 on our website. As a consequence of the advanced Aircomfort harness, we are sure that you will agree that this is the comfiest and breezy backpack vacuum available on the market today!
The innovative Aircomfort harness technology lets air escape from three sides. This reduces sweating by up to 25% compared to typical closed-back systems, which is good for the user and the environment. Because of this, the amount of space cleaned has gone up a lot, to over 7,000 square feet per hour.
Schools/Classrooms

Students' desks and tables may be cleaned quickly and easily with the help of these vacuums.
Commercial backpack vacuums
School buildings such as district offices, where district meetings are conducted, are always in high demand, and school workers often spend long hours at nighttime in these facilities. This makes cleaning this area a struggle.
The Sanitaire TRANSPORT QuietClean Backpack Vacuum which is offered at a reasonable price on our website operates at a noise level of 70 dBA or less, which is similar to a human conversation. The vacuum is quiet enough that it doesn't get in the way of nearby conversations.
Airplanes
It's time to put an on-time performance in the rearview mirror. "How clean is it?" has become the new primary criteria for airlines and customers alike. There has been a noticeable increase in the frequency of aircraft cleaning since the outbreak of the pandemic.
There is a lot of work being done by the airlines to perfect their cleaning operations—where, how often, and what instruments they use. Cabins on airplanes get a lot of foot movement, and so commercial backpack vacuums are ideal for aircraft cleaning because of the dirt, crumbs, and other microscopic particles they pick up. The user may easily access the aisles and navigate around and beneath chairs.
What are the benefits of a Backpack Vacuum?
More Productive

It's a major deal. Many studies show that using backpack vacuum cleaners might help you work more efficiently. In the first place, compared to vertical vacuums, these backpack models make it easier to maneuver in tight spaces and between different floor types, which can impact efficiency quite a bit.
Cleanup time was also decreased significantly by using backpack cleaners. In half the time, the same level of quality work is completed. If you're looking for a vacuum that gives you greater mobility and allows you to keep your cord out of your way, the CleanMax CMBP-6 BackPack Vacuum is the best option.
Ergonomic in Design

People in the cleaning sector are harmed at a rate more than double the national average. Even while cleaning isn't precisely a risky career, it does have its share of hazards that don't require a crane or other dangerous gear. Overwork and bad ergonomics are the main reasons why people in this field get hurt on the job.
With vertical vacuums, the cleaning staff is put under a lot of strain as they have to lift and push heavy industrial machinery. Injuries to the rotator cuff, bicep, lower back, and wrists have been connected to the use of vertical vacuums for long periods.
Backpack vacuums let the user use their own body weight to move the vacuum forward and backward instead of straining and hurting their own muscles. It is also harmful to bend or lean over when vacuuming with vertical vacuums, which may cause strains and pulls on the muscles in your back and neck. When you use a backpack vacuum, you have to stand up straight, so you can't slouch.
If you're not sure what to buy and you need reliable commercial cleaning equipment, take a look at what we have at
acevacuums.com
Be sure to speak to one of our expert reps to help you with further assistance in picking the best vacuum for your needs.

703-997-9292
You can visit us at:

11110 Lee Highway, Fairfax, VA 22030 (in Fairfax City, VA) or
300 Fort Evans Rd, Suite 104, Leesburg, VA 20176 (Town of Leesburg, VA)
#backpackvacuums #commercialvacuum #sanitaire #proteam #powrflite #bissell #titan #officecleaning #strongsuction #vacuumblog #cleanworkspace #shoplocal #acevacuums