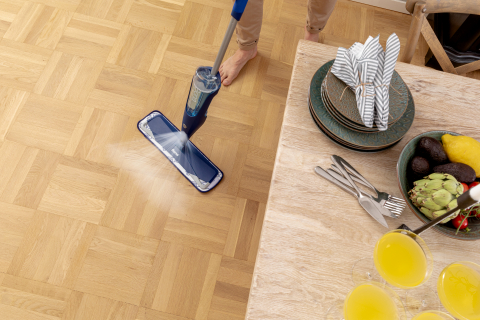 Experience the Bona Difference: The Superior Choice for Hardwood Floor Cleaning
Greetings to all our floor enthusiasts and homeowners passionate about maintaining their exquisite hardwood floors! Today, we're diving into a game-changing product that has been creating waves in the world of floor care: the Bona Floor Mop. At Ace Vacuums, we believe in providing our customers with the best, and when it comes to hardwood floors, Bona mops shine brightly among the rest.
Benefits of the Bona Floor Mop:
Gentle Yet Effective: Unlike traditional mops which can be abrasive, the Bona Floor Mop is specifically designed to cater to the delicate nature of hardwood. It effectively removes dirt, grime, and dust without causing any scratches or damage.
Eco-Friendly Solution: Bona's cleaning formula is water-based, and free from toxic chemicals, making it safe for you, your pets, and our planet.
Quick Drying: Say goodbye to waiting hours for your floors to dry. Bona mops leave your hardwood floors spotless and dry in record time.
Streak-Free Shine: One of the biggest pain points with traditional mopping is the unsightly streaks left behind. With Bona, you're assured a consistent shine every time.
Easy Maintenance: Bona mops come with machine-washable pads, making them easy to clean and reuse.
Why Choose Bona Over Traditional Mopping?
Traditional mopping often involves using excessive water, which isn't suitable for hardwood floors. Over time, this can lead to warping or damage. Bona's microfiber pad and specially formulated solution ensure that the right amount of product is used – cleaning effectively without over-wetting your precious hardwood.
Shop Local: Why Buy from Ace Vacuums?
While big box stores may stock a variety of products, buying from your local store, like Ace Vacuums, comes with its own set of unparalleled advantages:
Expert Advice: Our team knows floor care inside and out. You'll receive personalized advice tailored to your needs.
Supporting Local Economy: Purchasing from local businesses helps boost the local economy, ensuring your community thrives.
Personalized Customer Service: We value each customer and go the extra mile to ensure you're satisfied with your purchase.
Competitive Pricing: Contrary to popular belief, local stores often have competitive, if not better, pricing structures compared to big box stores.
Get in Touch Today!
Ready to transform your hardwood floor cleaning routine? Give us a call at 703-997-9292 or drop an email at info@acevacuums.com to purchase your Bona mop or for any further inquiries.
Click here to buy now:
https://acevacuums.com/products/hardwood-floor-care-system-bona-original-series
#AceVacuumsFloorCare #BonaFloorMop #HardwoodHeroes #EcoFriendlyCleaning #ShopLocal #ShineWithBona #FloorCareExperts
Remember, a pristine hardwood floor reflects the beauty of your home. With Bona and Ace Vacuums by your side, you're set to showcase your floors in all their gleaming glory!