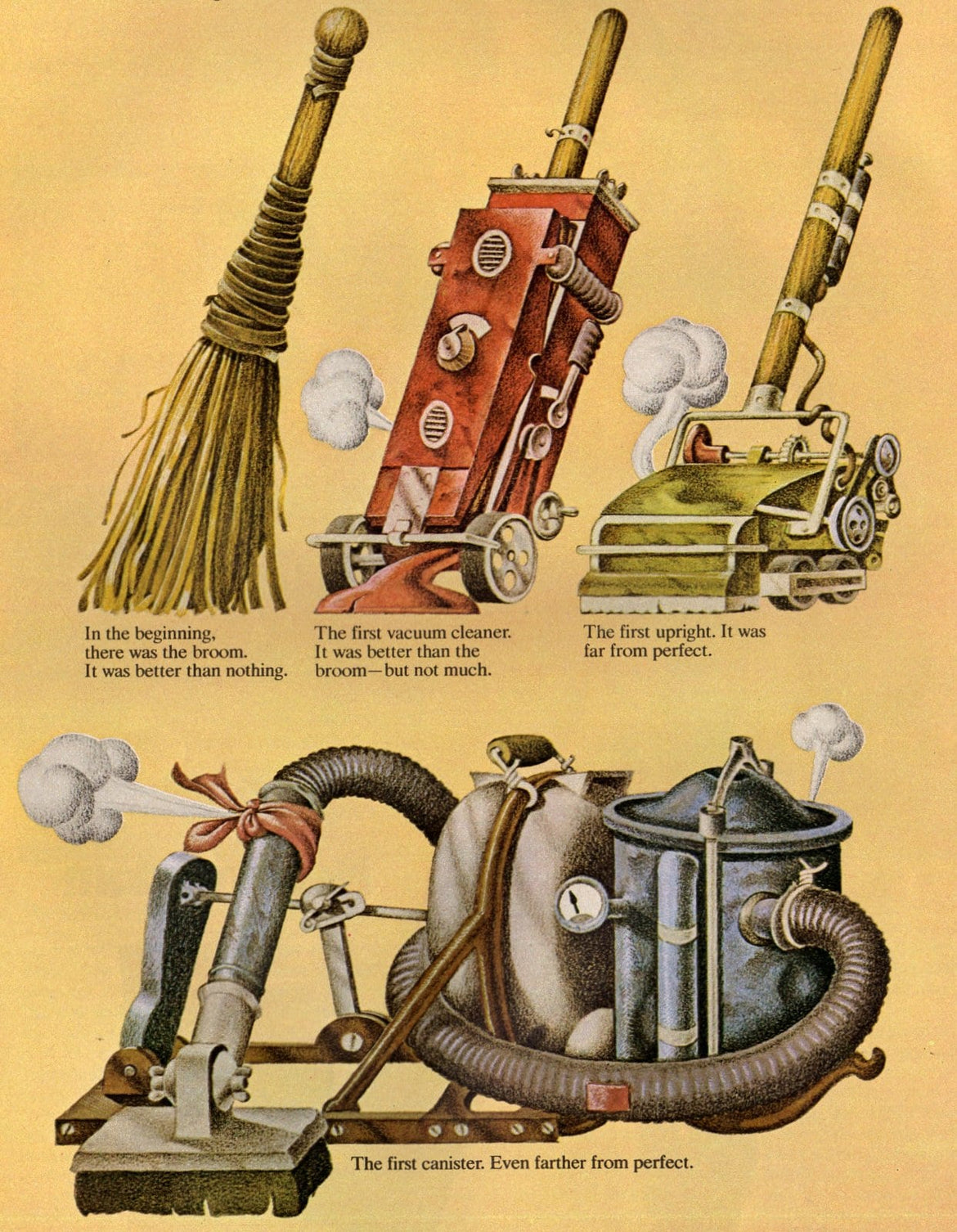 Historical and Fun Facts: A Whimsical Journey through the World of Vacuums with Ace Vacuums
Hello, cleaning enthusiasts and history buffs! Welcome back to the Ace Vacuums blog. Today, we're stepping away from our regular cleaning tips and product insights to embark on a delightful and insightful journey into the world of vacuums. From their historical roots to the quirkiest of facts and the opulent elite of vacuums, there's much to discover. Should any questions or curiosities arise, remember our trusty team at Ace Vacuums is just a call away at 703-997-9292 or an email to

 
info@acevacuums.com
.
The History of Vacuum Cleaners: From Brooms to Robots
The humble vacuum has come a long way:
The Broom's Evolution: Before electric vacuums, there were carpet beaters and manual sweepers, evolving from the simple broom.
Early Beginnings (1860): The first vacuum cleaners weren't "vacuums" at all but hand-pumped devices.
Hoover Enters the Scene (1908): The first modern, portable electric vacuum cleaner was born, making the brand name synonymous with vacuuming.
Robot Revolution (2000s): Brands like Roomba transformed our cleaning approach with robotic vacuums, making daily chores hands-free.
#VacuumHistory #FromBroomsToBots
7 Fun and Surprising Facts About Vacuums
Sound Science: The average vacuum cleaner noise is around 70-80 decibels, close to the volume of a phone's ringtone.
A World Record: The world's largest vacuum cleaner is over 100 times the size of a regular home vacuum!
A Space Vacuum: NASA has a specially designed vacuum cleaner for astronauts to clean up their floating debris in space.
A Literal "Dust-Buster": Black & Decker created the DustBuster in 1979, selling over a million units in its first year!
Environmental Impact: Modern vacuums consume 50% less energy than those from a decade ago.
Medical Beginnings: Early vacuums were sometimes promoted as health devices to rid homes of dust and allergens.
A Vacuum on Wheels: In the 1920s, "street vacuums" or vacuum cars were trialed in some cities to suck up street dirt.
#FunVacuumFacts #DidYouKnow
The World's Most Expensive Vacuum Cleaners
When luxury meets functionality:
24k Gold Plated Vacuum: Vacuum's "Millionaire's Vacuum" is crafted with 24k gold and priced at a whopping $1 million!
The Crystal-studded Vacuum: An ultra-luxurious vacuum adorned with 3,730 Swarovski crystals, blending opulence with utility.
High-Tech Luxury: Some of the world's most expensive vacuums aren't just about looks but incorporate cutting-edge tech and unparalleled performance.
#VacuumOpulence #LuxuryCleaning
Through time's lens, the journey of vacuums is not just about cleaning but reflects societal changes, technological advances, and sometimes, sheer luxury. The world of vacuums is vast, fascinating, and full of surprises. If this has piqued your interest and you're keen on more insights or product recommendations, don't hesitate to reach out to us at Ace Vacuums. Our contact is 703-997-9292, or you can drop a mail to

 
info@acevacuums.com
.