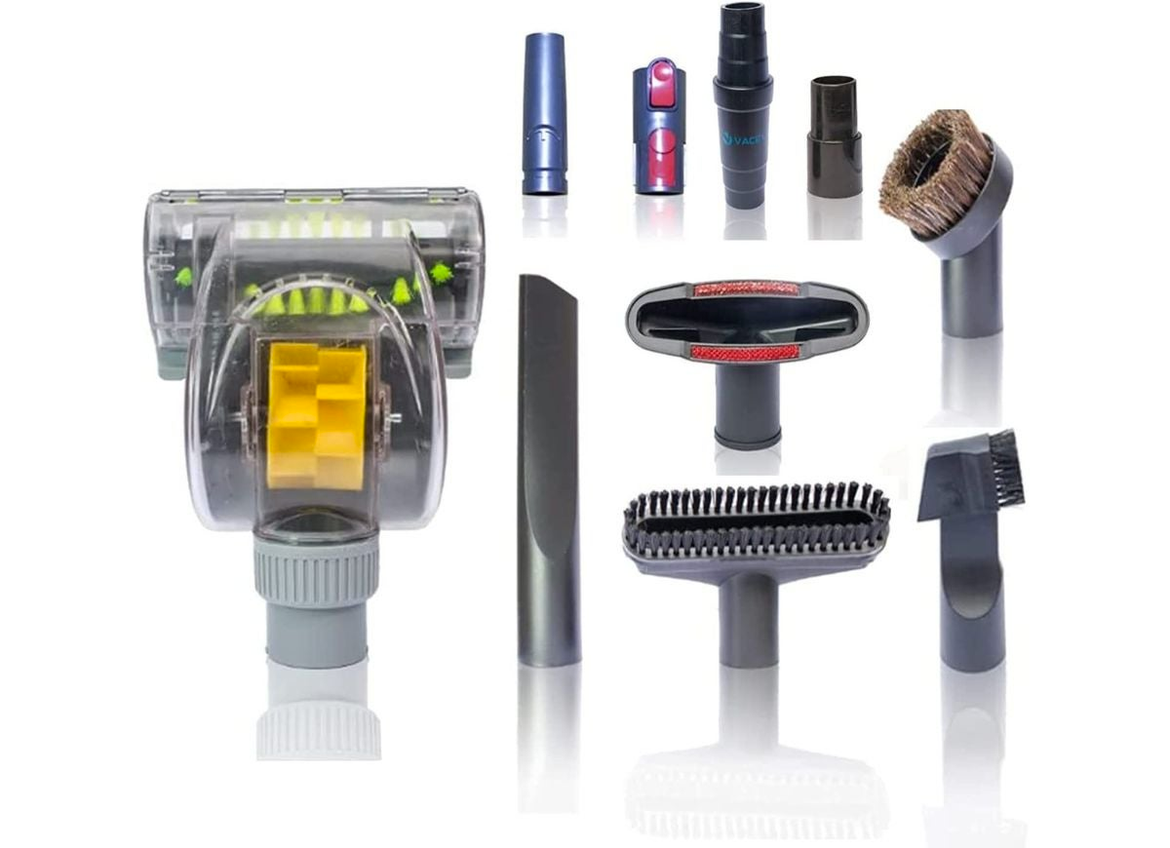 How to choose the correct vacuum attachment?
Choosing the right attachment accessories for your vacuum cleaner is critical.  They get the job done quickly and effectively. And while most vacuums have attachments with them, there are many after-market universal accessories that outperform stock attachments. Here is a brief overview of the most commonly used vacuum accessories, their function, and what to look for in a quality accessory.
Bare Floor Brushes

Excellent for hardwoods, tile, and smooth flooring.  The wider it is the more coverage you'll get but with a slight drop in vacuum.  Natural bristles are superior to nylon.
Crevice Tool

These are used for getting into corners and cracks and the narrowed top actually increases the force of suction.  Finding one with slots in the side improves airflow and prevents clogging.
Dusting Brushes

Used for dusting shelving, moldings, and smooth surfaces.  Natural bristles such as ones made from horse or boar hair last the longest and are more gentle on furnishings.  Nylon bristles tend to curl and splinter.
Upholstery Tool

These tools are great for cleaning cloth furniture and carpeted stairs.  Most are made from hard plastic but keep an eye out for ones with a nylon bristle strip.  This strip will agitate the surface and aid in the removal of embedded debris.
Turbo Attachments

Turbo Tools use a vacuum-powered turbine to spin a roller brush.  They come as a small handheld to be used as an upholstery tool or wide for area rugs and short pile carpeting.  Look for ones made by Wessell Werk of Germany.  These are by far the best, used by Miele and SEBO and offered in many central vacuum kits.  They do require maintenance to keep the turbine clear, the ducting is smaller and there is a reduction in vacuum to power these tools, but the added agitation of a spinning beater brush really do get thing picked up.  Not recommended for medium to thick pile carpets.  
*These tools come in 1 1/4" (standard) and some in 35mm (European Metric).  A few brands have proprietary attachments and may require the use of an adapter.  Ace Vacuum Sales and Service carry all of the vacuum accessories and the most common adapters.  If you are unsure of what size you need, bring a wand or hose in so we can help you find the right attachment for your needs.  We also stock vacuum accessories for your commercial backpacks like ProTeam and Titan.
For more info on vacuum attachments, you can Call us: 
703-997-9292
You can visit us at:

11110 Lee Highway, Fairfax, VA 22030 (in Fairfax City, VA) or
300 Fort Evans Rd, Suite 104, Leesburg, VA 20176 (Town of Leesburg, VA)
#acevacuums #vacuumblog #attachments #commercial #residential #vacuumtips #shoplocal #vacuumrepiar #vacuumserivice #vacuumrepairfairfax #novavacuums