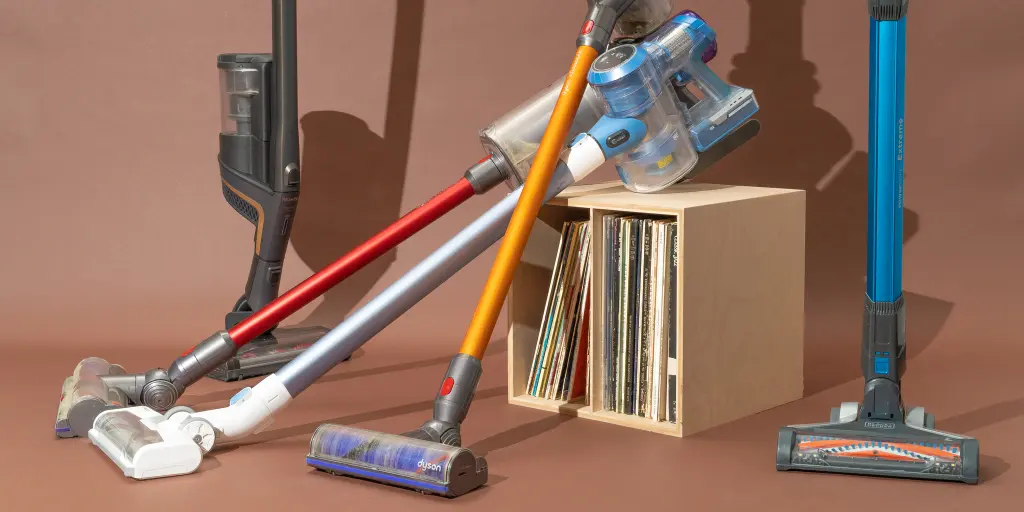 How to clean your cordless vacuum
The first cordless vacuum — the Dust Buster — was invented more than 40 years ago. Since then, other companies have followed suit with their own brands of cordless vacuum cleaners. Keeping your cordless vacuum in good shape means emptying it frequently and cleaning it from time to time. How do you clean a cordless vacuum? The professional vacuum cleaner repair team at Ace Vacuums has some tips to share with you.
Cordless Vacuums Have Become Indispensable
Before cordless vacuums were invented, we had whisk brooms and dustpans. We still have them, we just don't have to use them as often. Cordless vacuums are great for tiny messes because you don't have to go into the closet and drag out your whole-house vacuum, unwind the cord, plug it in and find the right attachment to clean up that handful of ice cream sprinkles on the kitchen floor.
Not only is a cordless vacuum much handier to use than a broom, but it also leaves less mess. When you sweep up a mess like sand, broken glass or crumbs, the broom always leaves some behind. Not so with a cordless vacuum. It's not only more convenient — it's safer, in the case of broken glass or other potentially dangerous objects.
Cordless Vacuums for Cleaning Cars
People especially love cordless vacuums for their cars. Cars get notoriously messy and dusty, and oftentimes you don't have an extension cord long enough to reach from your house to your car to use your regular vacuum. Plus, a regular vacuum can be unwieldy in the tight spaces inside a car. Especially if you have children who may eat snacks in the car, a cordless vacuum is a necessity for picking up all the crumbs and Cheerios that fall into the cracks and on the floor.
You could go to the gas station to use their vacuum, but why pay $1.50 every week to vacuum your car when you could use your own handy cordless vacuum?
Cordless Vacuums for Pet Hair
Pet owners love their cordless vacuums to vacuum up pet hair. Sometimes this is a thrice-daily chore, depending on how many pets you have and what type of fur they have, so you wouldn't want to leave your regular vacuum cleaner out 24/7.
If company is coming over unexpectedly, you can just grab your cordless vacuum cleaner and quickly run over the furniture so when your guests sit down, they won't be covered in cat or dog hair.
At Ace Vacuums, two of our favorite cordless vacuums are made by Miele and Riccar.
Miele Cordless Vacuums
Miele makes three models of cordless stick vacuums:
Triflex HX1
Triflex HX1 Cat&Dog
Triflex HX1 Pro
The Triflex HX1, available in gray or red, can run up to an hour on a single charge. Other cordless vacuums on the market run only 20 or 30 minutes on a single charge — hardly enough time to vacuum even a small apartment.
Miele boasts that its Triflex HX1 is as powerful as its electric vacuums, and comes with the convenience of offering three configurations. You can assemble the vacuum so the motor is at the top, allowing the slim sweeper to fit under furniture and into other small spaces. Prefer the motor at the bottom? That's an option. You can even convert this cordless vac to a handheld, and vacuum your car, drapes or other hard-to-reach areas easily.
The Triflex HX1 Cat&Dog is — you guessed it — for pet owners. It comes only in black, since red pets are so rare. This model comes with an electro handheld brush made specially to remove pet hair from floors, carpets, furniture, drapes and more. This vacuum also runs for an hour on a single charge.
The Triflex HX1 Pro comes with an extra battery and charger, so you can vacuum for two full hours without stopping to recharge.
Each Triflex cordless vacuum comes with an electric brush, crevice tool, dusting brush, upholstery nozzle, wall mount and power supply unit. All empty easily — simply twist and the dust cup opens, allowing dirt to fall into the trash.
Riccar Cordless Vacuums
Riccar only makes one cordless vacuum: the Cordless SupraLite Lightweight Vacuum. Riccar's Cordless SupraLite doesn't look like the other cordless vacuums — it's not a stick. But that doesn't mean it's heavy — in fact, Riccar's line of SupraLites weigh between eight and 11 pounds
Riccar says its cordless vacuum is as powerful as the electric models, and runs 50 minutes on a single charge. The battery also powers a headlight, which is helpful when you're vacuuming under beds and in other dark spots.
Riccar cordless vacuums use paper bags — when it gets full, simply remove it, throw it away and replace it with a new one. You don't have to deal with clouds of dust from dumping dirt from a reusable dirt cup into the trash.
The HEPA filter traps dust instead of letting it settle on your furniture, helping to keep your home cleaner. The floor tool comes with a rubber squeegee for bare floors, so you never miss a single crumb. Pull out this vacuum for a quick cleanup after dinner or when the kids or pets bring in leaves, grass and other debris.
Vacuum Cleaner Repair in Northern Virginia
Ace Vacuums provides vacuum cleaner repairs at its four locations in Fairfax and Leesburg. We service and sell vacuums to customers all along the NoVA area.
#cordless #vacuum #repair #dyson #shark #hoover #irobot #cleaningmachines #handfree #easytouse #shoplocal #cleaningisreal #carvacuum #carpet #vacuumsforpets #shoplocal #supportlocalbusiness