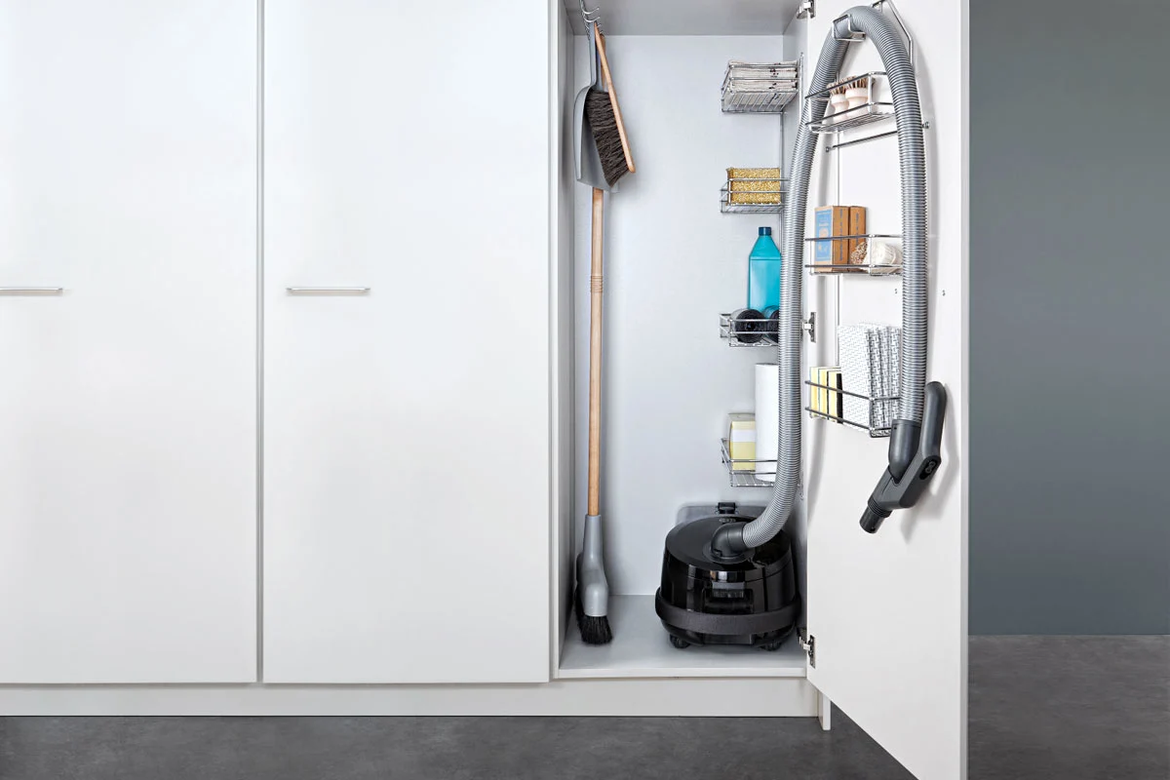 How to Store your Vacuum
Curious about vacuum cleaner storage options? It turns out that there are as many storage options as there are vacuum types. If you're on a quest to find the perfect place to hide your vacuum, read on!

Things To Think About

Before you decide on where to keep your vacuum, take a few things into consideration.


1. How much space do you have?

Think about which of your rooms has adequate space to keep your vacuum cleaner in.

Tip: If there's a closet or cabinet that you've been meaning to clean out, there's no time like the present!


2. What size and type of vacuum do you have?

Handheld vacuums can fit nearly anywhere, but if you've got an upright or canister vacuum, it's going to be more of a struggle.

Think about the size (and shape) that you'll need to set your vacuum into. Uprights are taller but less bulky in width, whereas canister vacuums tend to be stout and wider. Keep attachments and other factors unique to your vacuum in mind as you select the perfect place.

3. How often do you use it?

If you use your vacuum often, you'll want it within arm's reach. However, if you only break it out once a couple of weeks to vacuum a carpeted bedroom, it won't hurt to store it in a further corner of your house.

Tip: Keep the vacuum near where you'll need it if you use it frequently, and you'll minimize the annoyance factor of going all the way across the house to retrieve it.

4. What flooring do you have?

Flooring and frequency of use seem to go hand in hand. As we said above, an all-tile home with a couple of carpeted bedrooms isn't going to need as frequent use as a fully-carpeted home.

5. Who lives in your home?

It's no secret: pets and small children can wreak havoc on any carpeted floor. Don't get us wrong, they're adorable and entirely worth the "trouble."

However, your fellow house-dwellers will have an impact on how often you need to vacuum - so do yourself a favor now and keep that vacuum as close as possible if you've got little ones or furry friends.


Storage Ideas for Your Vacuum

Now that we've established what to think about, here are some storage ideas.
1.
Closets
Closets are usually the first choice, and they're great at storing upright and canister vacuums.
2. Kitchen pantries and cabinets

Pantries and cabinets can be cleared to store your vacuum as well. However, if you have trouble reaching up, you'll want to keep heavier vacuums in a lower pantry or cabinet.
3.
Walls
Empty wall space is great for storing your vacuum, and many vacuum cleaners (especially stick vacuums) also come with the hardware you'll need to mount it onto a wall.
4.
Bedroom
The great thing about storing your vacuum in the bedroom is that usually, you'll be the only one who sees it. Whether you choose to have it in plain sight or hidden away in a closet, this is a great option.
5.
Hallway
If your hallway is wide enough, you can set your vacuum there. It's not unusual for homeowners to keep their vacuum next to their shoes in the hall.
6. Garages and laundry rooms

Due to the moisture levels and lack of insulation, garages, and laundry rooms aren't the best places to keep a vacuum. However, if you've got no choice, it's a far better option than leaving it outside!


Short on Space? Try This!

Here are some ideas for limited space, whether you've got a condo or apartment.


1.
Under something

Owners and renters of small homes get creative with their vacuum storage. Whether you hide your vacuum under a sink, under the bed, or under a staircase, you'll have it where you need it. Be careful storing it under a sink, though - moisture can ruin your vacuum!
2.
In the open
Got a classy vacuum that fits with your home décor? If it's as sleek and stylish as the rest of your home, go ahead and leave it out!
3.
Hidden in plain sight
Love to create artwork or spend your free time on crafts? David Jones of Smart Vacuum Guide came up with the idea of creating an art deco piece to hide it using crates or creating a cloth cover for your vacuum, and we love these ideas! He also suggested hiding stick vacuums behind curtains, so the possibilities are endless.
#how #to #store #vacuums #tipsandtricks #cleaningsolution #vacuumstorrage #vacuumblog #cleaningtips #shoplocal