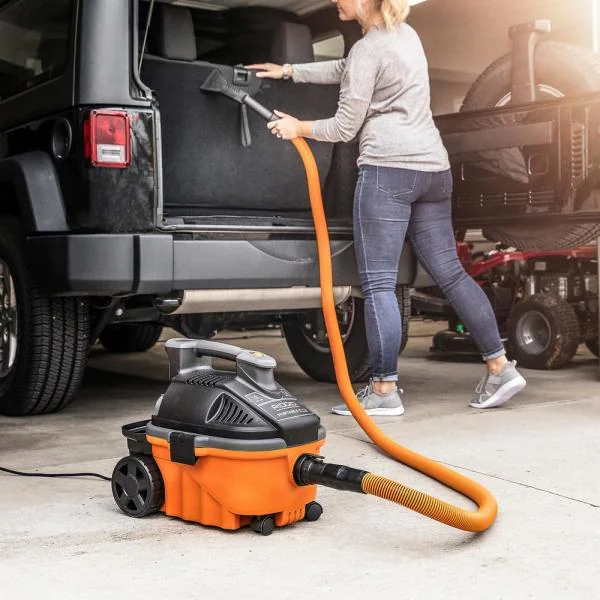 How to Vacuum your Car
It's easy enough to push your vacuum around your house, sucking up all the dust and dirt from the floor and rugs — but how often do you put the attachments to good use? Maybe a couple times a year to vacuum the drapes or underneath the couch cushions. If this is true of you, you aren't getting your money's worth out of your vacuum. Use your vacuum cleaner attachments to detail your car — you'll save money and your car will look fabulous. The techs at 
Ace 
Vacuums have some tips for you for vacuuming your car so it looks as good as the day you bought it.
What's in Your Car?
For most people, the bulk of what needs to be vacuumed up in a car is dirt on the floor from the driver's shoes, or maybe from the passengers' shoes as well. Most cars come equipped with floor mats. If you threw yours out after they got dirty or you bought or inherited a used car without mats, it's a good idea to invest in some car floor mats. They aren't expensive and they prolong the life of the carpet in your car exponentially. Plus, if your car's carpets are already irrevocably stained, covering them up with some new car mats will make your car look much nicer.
If you have pets, another pesky mess in your car might be pet hair. Once you get your car clean, consider covering the back seat with a sheet when you take your pet with you and confine them to this area.
Even messier than pets are children. If you have ever seen what the upholstery looks like after you remove a children's car seat, you know what we're talking about. Months of Cheerios and Teddy Grahams and sandwich crusts along with toys and other scraps can really make a mess of your car.
Drivers who took their car on a beach vacation may have a lot of sand in the interior, or if you ferry around sports enthusiasts, you may have a car full of black crumb rubber and grass clippings.
It's a challenge to clean — we agree. But when you consider the price of detailing a car — $75 to $200 depending on the size of the car and how dirty it is — you may want to take a crack at it yourself.
Vacuuming Your Car
If you have a garage, you're lucky, because you have a power source close to your car. When you have to park in the street or you live in an apartment, it can be hard to maneuver your vacuum so far from your home. However, we recommend that those with garages roll their car out into their driveway to vacuum it. It's easier to move around outside, and you have more natural light to see what you need to clean.
Your first step when vacuuming your car is to remove everything from it: children's car and booster seats, sports equipment, clothing, bags, floor mats. Then collect the big pieces of trash — takeout bags, empty coffee cups, straw papers, napkins, papers, etc. Look under the seats to make sure you get everything. You may find an item there that you have been looking for!
Start by vacuuming the seats with your vacuum cleaner's utility attachment or brush, depending upon what type of seat fabric you have. When you vacuum, you always want to start at the top and move down. Vacuuming the seats gets rid of dust, hair, crumbs and more.
Next, use the brush attachment to vacuum hard surfaces such as the dashboard, steering wheel column, console and compartments. This will remove the bulk of the dust, but you'll need the crevice tool to get into those tiny little areas such as the spot where you've been keeping spare change.
Last, you want to vacuum your car's floor. Start by moving all the seats back as far as they go. You'll want to do big areas with the utility attachment and hard-to-reach areas with the crevice tool. This is the satisfying part in which you like suck up a large volume of items such as dirt, gravel, French fries and other miscellaneous items. Then move all the seats forward to give yourself the best chance at removing most of the debris.
Finishing Your Car's Detailing
While vacuuming is the most important part of detailing a car's interior, it's not the only part. Once you're done vacuuming, you will want to go over the hard surfaces in your car with a damp cloth or a product such as Armor All, if you like a glossy finish. Take care not to wipe clear plastic or glass surfaces with Armor All — it will leave greasy streaks.
A window cleaner such as vinegar and water is good for cleaning glass and clear plastic. If you discover stains on your car seats or carpets, you can try using Gone Carpet Stain Remover, a commercial cleaner specially made for this purpose. Baby and toddler car seats are often extra dirty, but you can usually remove the padding on these and toss it into the washing machine. Note: Be sure to properly reinstall your children's car seats after vacuuming your car. If you need help, visit a local auto repair shop or fire station — they often install car seats for free.
As a finishing touch, you may want to spray your car with a deodorizer or air freshener, or install a freshener that slowly releases scent over time.
Depending on how often you use your car, how many passengers you carry and what activities you allow in your car, you may want to do this chore once a week, once a month or a few times a year.
Vacuum Repair in Northern Virginia
For advice about how to use your vacuum cleaner's attachments, call or stop in to Ace Vacuums with locations in Fairfax and Leesburg, VA. We do vacuum cleaner repairs for homeowners and business owners throughout the area. We sell and repair Dyson, Shark, Kirby, Bissell, Riccar, Roomba and many other brands.
#vacuumsinva #acevacuums #vacuumyourcar #carvacuum #portablevacuum #howto #vacuumblog #shoplocal#supportlocalbusiness #riccar #miele #dyson #simplicity #cleaningmachine #awesomevacuums #vacuumsforme