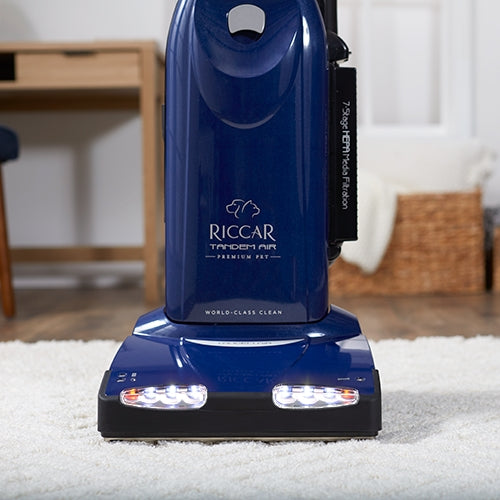 Pet Owners' Guide: Ensuring a Clean and Fresh Home
Hello to all the pet parents from Ace Vacuums! We understand that while our furry companions bring joy and love to our homes, they also bring along hair and, occasionally, some not-so-pleasant odors. But fret not! We're here with solutions, tips, and product recommendations to ensure your home remains as spotless and fresh as ever. Dive into our guide below, and remember, for tailored advice, don't hesitate to contact us at 703-997-9292 or
info@acevacuums.com
.
1. The Best Vacuums for Pet Hair Removal - Riccar Vacuums

When it comes to pet hair, not all vacuums are created equal. Enter Riccar Vacuums:
Powerful Suction: Efficiently removes embedded pet hair from carpets and upholstery.
Advanced Filtration: Ensures that allergens like pet dander are trapped inside.
Agile Design: Makes it easier to reach under furniture or tight spots where pet hair often hides.
Durable Build: Crafted to handle the rigors of regular pet hair cleaning.
#RiccarVacuums #PetHairSolution
2. Tips for Keeping Your Home Hair-Free When You Have Pets

Your vacuum plays a pivotal role, but some practices can amplify its effectiveness:
Regular Grooming: Brush your pet often to reduce the amount of hair shed around the home.
Use Washable Throws: Place them on furniture where your pet lounges; wash regularly.
Stay Consistent: Vacuum high-traffic areas every couple of days and other areas at least once a week.
Rubber Gloves Trick: Wear dampened rubber gloves and run your hands over surfaces; hair will cling to the gloves!
#PetHairTips #HairFreeHome
3. Addressing Pet Odors: How the Right Vacuum Can Help

Beyond hair, pet odors can be a challenge:
Odor-Fighting Filters: Opt for vacuums that come with activated charcoal or similar filters to neutralize smells.
Regular Emptying: Ensure the dirt container or bag is emptied frequently to avoid accumulating odor.
Vacuum Attachments: Use them to deep clean areas where your pet frequents.
HEPA Filters: These can trap pet dander, which sometimes contributes to the odor, ensuring cleaner exhaust air.
#OdorFreeHome #FreshnessFirst
Embracing the joys of pet ownership doesn't mean compromising on a clean home. With the right tools, techniques, and consistency, you can have the best of both worlds. Looking for more guidance or the perfect vacuum for your pet-friendly home? Ace Vacuums is just a call or email away. Connect with us today at 703-997-9292 or
info@acevacuums.com
.