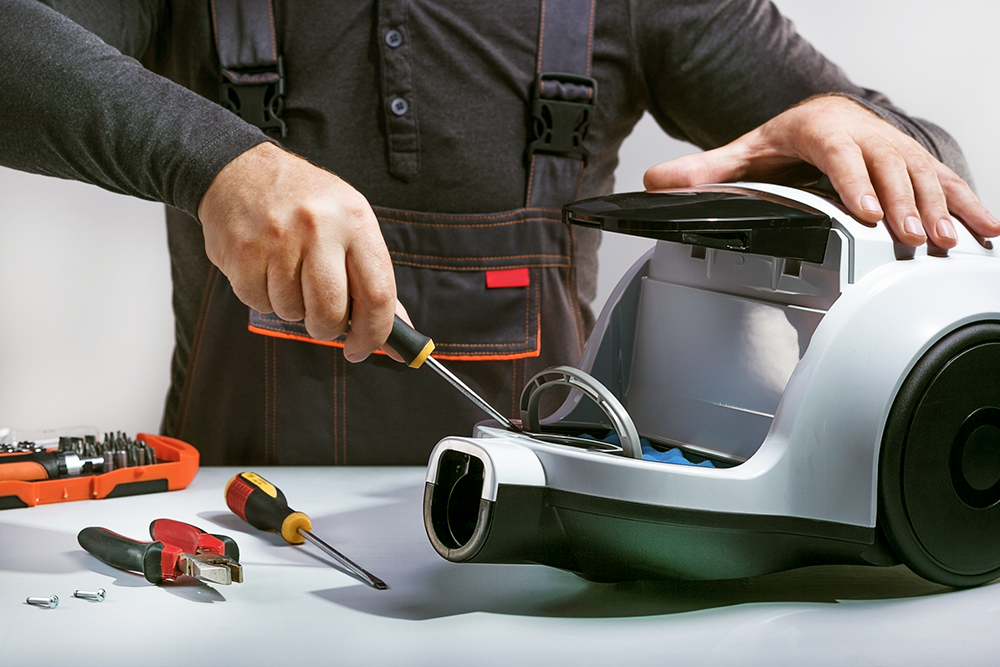 Repair Or Replace – What's Right?
Here you are, finally taking time out of your busy Saturday to vacuum the house. You've picked up all the toys, put the shoes in the closet, and even moved the furniture out of the way. Your house mess is about to be tamed, once and for all! About to master the art of cleaning, you pull out the vacuum, plug it in, and what's that? Is it broken? Of course. Besides not being able to clean as you had planned, now you are faced with an important question: do you take your vacuum in to be repaired, or is it time to get it replaced?
As Glen Cove's trusted vacuum professionals, we are here to tell you that we are more than happy to help you with both. Is it worth it to get it fixed? How long will it really last? Am I throwing out a perfectly good machine? We understand there are a lot of questions you need to be answered. Whether your vacuum has seen better days or it still has a little life left in it, our team of professionals knows exactly what to do, and what option is going to be the best for you.
So, unplug your machine, move your furniture back, take a deep breath, and let us help you make the right decision.
Call The Experts In
First off, the most important question have to ask yourself is if you like your vacuum enough to keep it. If your vacuum is outdated, chances are you may be in the market for a new one anyway. And if you are looking for something that really gets the job done, consider what the Miele Upright Vacuum can do. Changing the way you think about vacuuming, our Miele Upright Vacuum is most customers' first choice for picking up pet hair, odor control, and so much more.
If your vacuum was just fine and suddenly has stopped working, it's probably fixable. But to determine if that's what is best, you may want to ask "at what cost is it truly worth it?". Deciding if your vacuum can be repaired, we take a look at factors into account, such as how long you've had it, what the problem seems to be, and what pieces may be damaged. Of course, we don't expect you to know the answer to most of these questions, which is why we will do everything for you.
There could be many reasons your vacuum is no longer working, such as the belt is broken, or the filter needs to be replaced. Maybe it even just needs a good ol' fashioned cleaning. No matter what the problem is, we will try to do everything in our power to save your vacuum. But if the damage is irreparable, do not worry. With a wide selection to choose from, you can find a new Miele vacuum that won't disappoint.
At the end of the day, what matters is that you know who to call to help you. We truly care about your vacuum needs and believe in being there for you when you need us the most. Whether the repair is the better option, or you are looking for a new vacuum to get the job done, when you come into our shop, you know you are going to leave with a vacuum that gets the job done the right way.
Repair or replace, you can count on the Miele experts, because we do it all. If you're having trouble with your vacuum, it's time to let us help. We want you to love the way you clean.
For more info on deep cleaning carpet vacuums –
You can call us at:
703-997-9292
You can visit us at:
11110 Lee Highway, Fairfax, VA 22030 (in Fairfax City, VA) or
300 Fort Evans Rd, Suite 104, Leesburg, VA 20176 (Town of Leesburg, VA)
#replace #vacuum #miele #riccar #sebo #simplicity #dyson #buylocal #vacuumrepair #acevacuums #shoplocal #vacuumservices