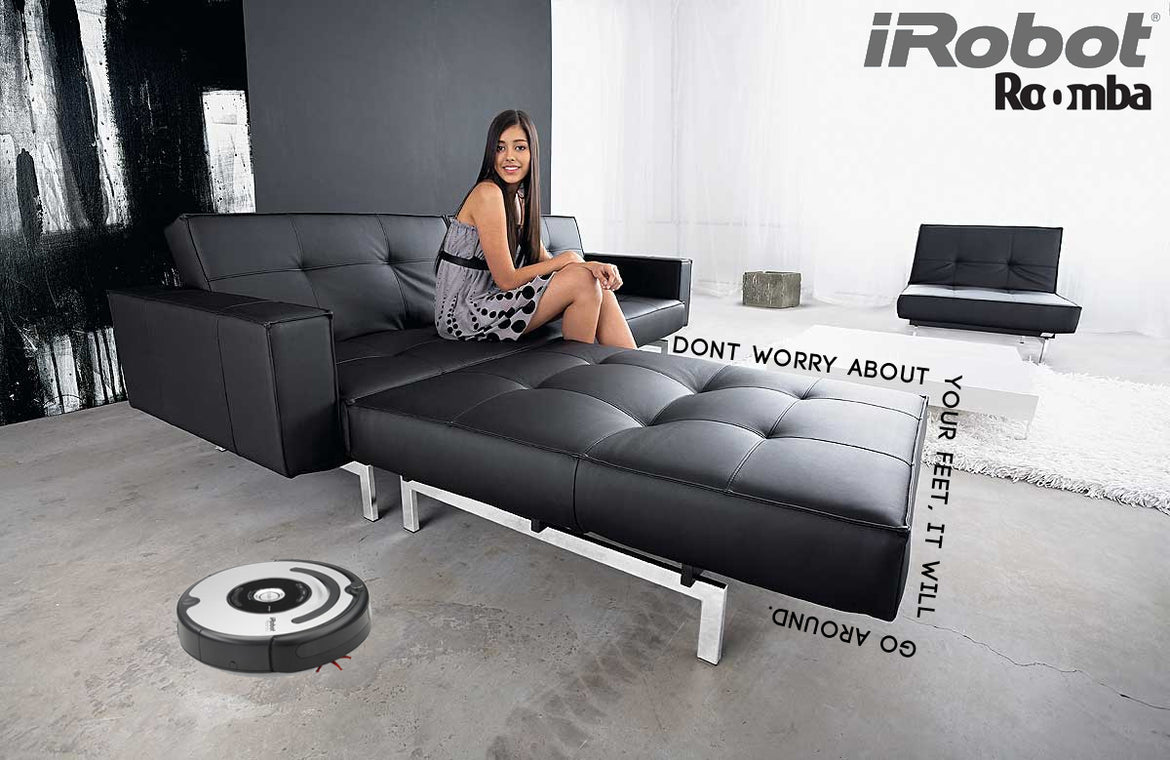 Robotic vacuum cleaners | Acevacuums
Acevacuums, an authorized dealer for the most advanced robotic vacuum cleaners . Now on sale call $$$
VISIT OUR LOCAL STORES OR CALL 1 888 606 8885 FOR A GAURANTEED BEST DEAL & SAME DAY FREE SHIPPING
Don't you want to spend that extra time with your family ? Well, it's time to let the Robots do the cleaning for you whether you are at home are away from home

. Acevacuums sells the latest iROBOT Roomba the most advanced  Roomba ever.

Roomba 700/800 Series robots use the revolutionary AeroForce™Performance Cleaning System to clean floors like no vacuum has ever cleaned before. It is proven to remove up to 50% more dirt, dust, hair and debris than previous Roomba models, Roomba 700/800 Series delivers maximum cleaning performance with less maintenance hassle.

Roomba 700/800 features Dirt Detect™ Series 2 technology which helps the robot perform concentrated cleaning in the dirtiest areas. Roomba 700/800's touchpad eliminates buttons and gives you control of the robot at the touch of your fingertips. Room-to-room cleaning tells Roomba to clean one room before moving on to the next. The Full Bin Indicator lets you know when the dust bin is full and needs to be emptied.

Let the robot do the dirty work.
Roomba uses a patented 3-stage cleaning process to vacuum carpets, hardwood, tile and laminate floors on its own, automatically adjusting to different floor surfaces as it moves through your home. Roomba 780's cleaning features include:
Advanced Cleaning Head: Designed with pet owners in mind, the cleaning head provides excellent performance for picking up pet hair, dirt, dust, allergens and more
AeroVac™ Series 2 Bin: Employs a powerful vacuum to vigorously pull debris and hair off brushes into the bin. The distributed air collection and clog-resistant design of the AeroVac Series 2 Bin optimizes vacuum effectiveness and dirt and hair packing efficiency.
Dual HEPA Air Filters: Capture dust particles as fine as 0.3 microns, limiting the recirculation of fine particles and leaving fresher, healthier air behind
Clean under the bed and other hard-to-reach areas.
Roomba provides comprehensive cleaning coverage – vacuuming in tight spots, under and around furniture and along baseboards. Roomba 780 features:
Persistent Pass Cleaning Method: Employs a back and forth cleaning pattern to apply elbow grease in areas where it senses excessive dirt
Every home is different.
Roomba maximizes cleaning by adapting to your unique household environment. iAdapt® Responsive Navigation Technology monitors the cleaning environment more than 60 times per second, using multiple sensors (like cliff detection) and dozens of behaviors (including wall following) to clean your home. Roomba 780 adapts to your home using:
Molded Soft-Touch Bumper: Cushions the contact made between Roomba and walls, furniture and other objects, protecting household items while it cleans
Dirt Detect Series 2: Uses optical and acoustic sensors to find dirt and debris, performing concentrated cleaning in the dirtiest areas and ensuring the whole floor is clean
Less work for you.
Roomba knows which areas to clean – and those to avoid. Virtual Wall® Lighthouses confine Roomba in one room until it is clean and then lets it move into the next room, ensuring the robot methodically cleans multiple rooms. Roomba also charges itself, going back to its Home Base® to dock and recharge between cleanings.