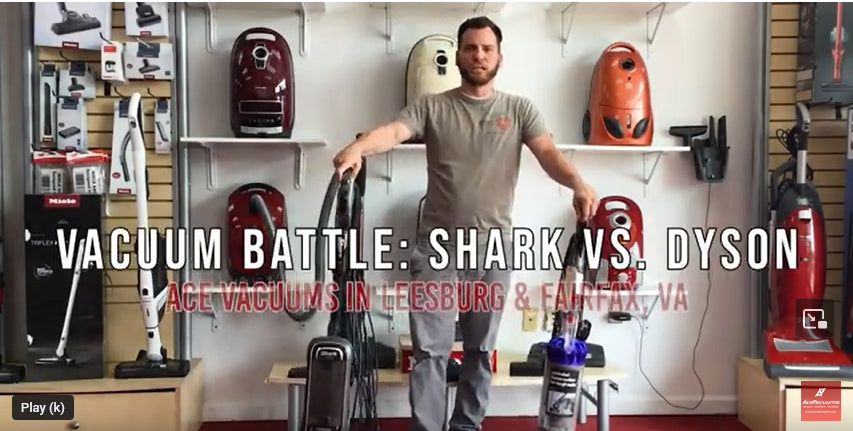 Shark Powered Liftaway vs. Dyson Ball Vacuum: The Ultimate Cleaning Showdown! PT:1
Welcome to Ace Vacuums, your go-to destination for all things cleaning! In this thrilling battle of the vacuums, we bring you the highly anticipated matchup between the Shark Powered Liftaway and the Dyson Ball Vacuum. Get ready to witness the power and performance of these two titans as they compete for the crown of superior suction and cleaning capabilities.
Why Choose the Shark-Powered Liftaway?
Unleash Unparalleled Versatility: The Shark Powered Liftaway is a true cleaning powerhouse, featuring a unique 3-in-1 design that transforms from an upright vacuum to a portable canister and even a convenient handheld vac. With just a press of a button, you can effortlessly clean every nook and cranny of your home, from floors to ceilings and everything in between.
Dynamic DuoClean Technology: Equipped with Shark's revolutionary DuoClean brush roll, this vacuum leaves no debris behind. The dual brush design combines a bristle brush to deep clean carpets with a soft brush roll to pull in larger particles and directly engage hard floors. Say goodbye to multiple passes and hello to a thorough and efficient clean every time.
Powerful and Lightweight: Don't be fooled by its compact size! The Shark Powered Liftaway packs a punch with its strong suction, effortlessly tackling pet hair, dirt, and dust. Plus, its lightweight construction makes it a breeze to maneuver around furniture and up and down stairs, reducing strain on your arms and back.
Advanced Anti-Allergen Complete Seal Technology: If you suffer from allergies or asthma, the Shark Powered Liftaway is your ultimate ally. Its advanced filtration system traps 99.9% of allergens and dust inside the vacuum, ensuring cleaner air for you and your family to breathe.
Contact Ace Vacuums and Shop Local Today! 
Don't miss out on the chance to experience the cleaning revolution with the Shark Powered Liftaway. At Ace Vacuums, we pride ourselves on providing exceptional customer service and expertise. Give us a call at 703-997-9292 or email us at
sales@acevacuums.com
to speak with our knowledgeable team who can answer any questions you have and help you find the perfect vacuum for your needs.
Support Local Businesses, #ShopLocal 
At Ace Vacuums, we believe in the power of supporting local businesses. By choosing to shop with us, you not only receive top-notch products and personalized service, but you also contribute to the growth and prosperity of your community. Join the movement and make a difference by shopping locally

Don't miss out on the Shark Powered Liftaway's incredible features! Visit our website or contact us now! 

#AceVacuums #SharkPoweredLiftaway #ShopLocal #CleaningRevolution #SuperiorCleaning #UltimateVersatili