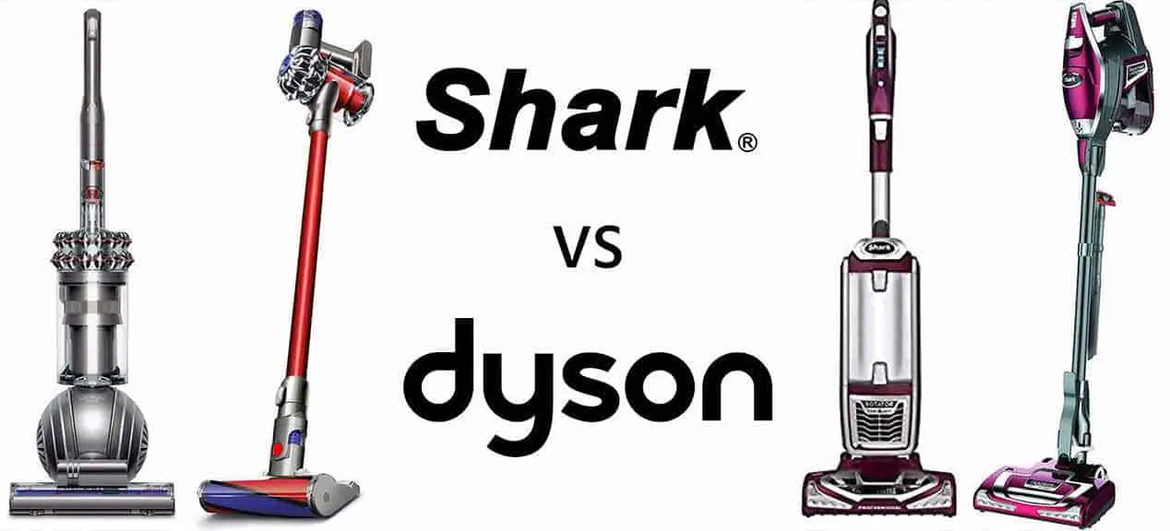 Shark vs. Dyson Vacuums
Shark vs Dyson is a popular debate when it comes to high-end vacuum cleaners. Both brands offer high-quality products, and choosing between them can be challenging. In this blog post, we'll compare Shark and Dyson vacuums to help you make an informed decision.

Suction Power:
Both Shark and Dyson vacuums have strong suction power that can pick up dirt and debris on different surfaces. However, Dyson's cyclonic technology provides more powerful suction, making it better for deep cleaning. Shark vacuums, on the other hand, have a more affordable price tag but are still efficient in suction power.

Design and Features:
Dyson vacuums have a unique and innovative design that includes a ball joint that allows you to navigate around furniture easily. They also come with advanced filtration systems that capture allergens and other microscopic particles, making them ideal for people with allergies. In contrast, Shark vacuums come with a variety of features such as anti-allergen technology, LED lights, and detachable canisters that make cleaning more convenient. Additionally, Shark vacuums are designed with a low profile, making it easier to clean under furniture and tight spaces.

Price:
Shark vacuums are generally more affordable than Dyson vacuums, making them a better option for people on a budget. However, Dyson vacuums offer more advanced features and technology, making them worth the investment for people who prioritize efficiency and innovation.

Warranty:
Both Shark and Dyson vacuums come with a warranty, but Dyson's warranty is longer and more comprehensive. Dyson vacuums come with a 5-year warranty, while Shark vacuums come with a 1-5 year warranty depending on the model. This means that Dyson vacuums have better long-term protection against manufacturing defects and issues.

Accessories:
Both Shark and Dyson vacuums come with a variety of accessories that make cleaning more convenient and efficient. Dyson vacuums come with a wider range of accessories such as a grooming tool, an articulating hard floor tool, and a tangle-free turbine tool. Shark vacuums, on the other hand, come with a motorized brush roll, crevice tool, and dusting brush. In general, Dyson vacuums have more accessories, making them more versatile in cleaning different surfaces and spaces.

Conclusion:
Overall, Shark and Dyson's vacuums are both high-quality products that offer excellent performance and advanced features. When choosing between them, it's essential to consider your cleaning needs, budget, and preferences. If you're looking for a budget-friendly option with convenience features, Shark vacuums are an excellent choice. However, if you want advanced technology, superior suction power, and a longer warranty, Dyson vacuums are the better option.