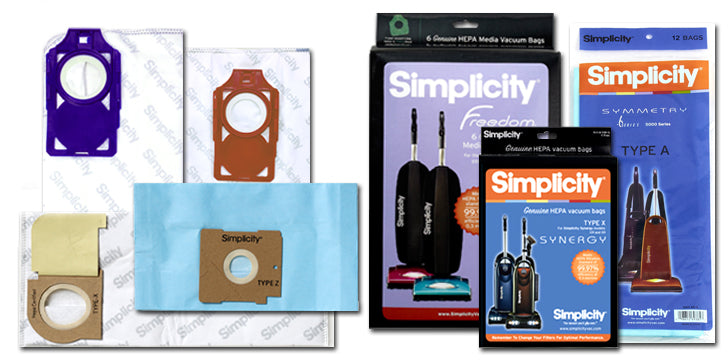 Simplicity Vacuum Bags
Buy Simplicity vacuum cleaner bags from Acevacuums.com today. It is very important to change your vacuum cleaner bags regularly for optimum performance of your vacuum cleaner. We sell Simplicity bags for all makes and models of canister vacuum, Upright Vacuum and Hand held Vacuum cleaners.
Save 15% off on all vacuum bags, HEPA bags and Filters from Acevacuums today.
ACEVACUUMS LOCATIONS
Acevacuums is conveniently located in Loudoun County and Fairfax County to serve customers from Ashburn, Sterling, Leesburg, Great Falls,Herndon, Vienna, Fairfax, Tysons Corner, Falls Church, Annandale, Reston, Chantilly, South Riding and other cities. We sell Vacuum cleaners, Air purifiers, Robotic vacuums, Carpet Shampooers, Floor polishers, Zone heaters and Fans.We are an authorized dealer for Miele, Riccar , Dyson, IQAir, Blueair, iRobot, Sebo,Simplicity , Hoover , Eureka and other vacuum cleaner brands.
We sell the best HEPA vacuums like Miele, Sebo, Riccar for Allergy sufferrers and Pet owners. You can also buy the best Air Purifiers like IQAir and Blueair from us for the lowest price in the nation. Also, ask us about the discounts on HEPA Bags, HEPA filters, Vacuum belts and Vacuum parts.
We will beat any competitors price, just visit one of our stores or call us for the deals, you won't be disappointed.
Store Hours :
Monday – Friday : 10.00 AM to 7.00 PM
Saturday : 9.00 AM to 5.00 PM
Sunday : 11 AM to 5.00 PM