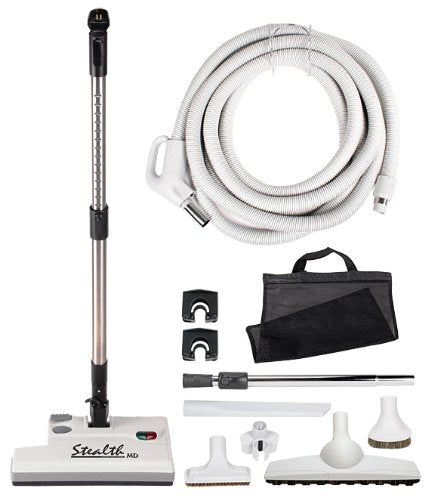 Stealth Central Vacuum Attachment Kit
Stealth Central Vacuum Kit
Stealth Central Vacuum Attachment Kit. How well your carpet is cleaned and how little maintenance Stealth central vacuum kit requires are what make Stealth central vacuum kit  the homeowner's top-rated vacuum. It cleans so well that allergies are often relieved within the first couple uses. In fact, it may not be until after you try the Stealth central vacuum kit that you realize just how clean your carpets can be. Everyone wants clean carpets and a worry-free vacuum, and Stealth central vacuum kit offers both of those at the highest level. The Italian-made Stealth central vacuum kit is made with the highest quality materials, has a lifetime belt warranty, and is very quiet. Stealth central vacuum kits fit all systems, brands, makes, and models–guaranteed.
Belt: The cogged belt's durable, reinforced rubber allows for a smooth, non-slipping, full performance, deep-down clean every time. If there is too much belt tension the vacuum head will instantly turn off, protecting all the moving parts. That is why the belt has a lifetime warranty. Stealth's durability and fine-tuned technology consistently allows for well over a decade of household use for all residential cleaning needs.
Hair-Less Roller Brush: Stealth's single row of 360-degree convergent bristles has the ability to scoop up and move things toward the center on the first pass, allowing the suction to take it in. The roller brush is also computer balanced, reducing noise vibration and increasing Stealth life. Bristles on the roller are the highest quality, rated to 800 hours – many times that of standard brushes.
Stealth has no toy plastic. Stand on it with all your weight: it will not give in. And still, as rugged as Stealth is, it will not mark up your baseboards. The non-marking rubber bumper provides this assurance. The wheels are also unique. They are on metal axles and have a soft tread that prevents side slipping while vacuuming. The contours of the brush where it meets the carpet allows just the right mix of air so debris can be lifted and swept away. You can have it all – a tough vacuum that also takes care of your home.
Heavy Duty Motor : MD's Stealth Power Head comes with a 5-year motor warranty – the best in the industry. The extended life is a result of superior construction and a super heavy-duty commercial design. The motor has a larger, 24-bar commutator (where electrical power is transferred to the motor's rotor) which reduces heat buildup and amp usage. Translation? Less wear on the carbon motor brushes which results in longevity and more cleaning power to the brush.Also, electric driven carpet brushes are superior to air turbine brushes for homes with wall-to-wall carpet. The electric motor provides so much power that it creates its own vacuum effect, literally pushing debris up through its neck.
Two Sizes Fit All : Stealth Power Head comes in two widths. The more popular model is the 15-inch-wide version as it covers more area faster. The narrower, 12-inch-wide version is popular for smaller homes with lots of pet hair. Both brushes are made in Italy by Lindhaus and share the great quality homeowners have come to expect.
 Swivel to Flat : The Stealth Vacuum neck swivels 180 degrees. This allows for more ergonomic vacuuming positions as well as the ability to lay flat. The head, neck, wand, and hose handle can lay completely flat so you can vacuum far back under beds and furniture that have a 3-3/8″ or more gap measurement.
Acevacuums is conveniently located in Loudoun County and Fairfax County to serve customers from Ashburn, Sterling, Leesburg, Great Falls,Herndon, Vienna, Fairfax, Tysons Corner, Falls Church, Annandale, Reston, Chantilly, South Riding and other cities. We sell the best Vacuum cleaners, Air purifiers,  Robotic vacuums,  Central Vacuums,
Fairfax Store : 11110 Lee Hwy, Fairfax : Call 703 997 9292  / 703 997 9292 X 1 
Ashburn Store : 44190 Waxpool Rd, Ashburn : Call 703 997 9292
Leesburg Store : 300 Fort Evans Rd NE : Call 703 997 9292 / 571 209 5881
Google map