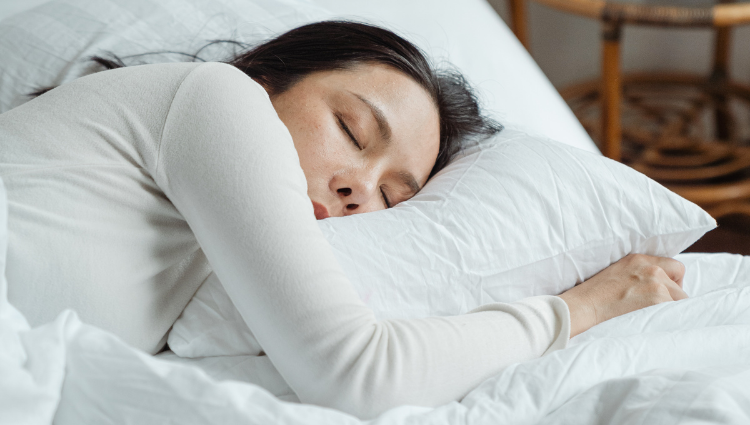 The best air purifier for a good night's sleep
Are you struggling to get a good night's sleep? If so, you're not alone. According to the Centers for Disease Control, as many as 1 in 3 Americans are not getting the sleep they need. Sleep experts recommend adults have an average of 7 hours of sleep per night. Anything less than this and we're at increased risk of cancer, heart disease, kidney disease, high blood pressure, diabetes, depression, anxiety, strokes and obesity. Good quality sleep is vital for our health and well-being.
Pollutants in the bedroom are interrupting your sleep

Exercise and a healthy diet, a good bedtime routine, and stress management will all help to improve your sleep patterns. But did you know that airborne pollutant can also affect the quality of your sleep? According to one study from a team at the University of Washington, people exposed to high levels of pollutants in the bedroom are more likely to suffer poor quality sleep.
The Austin Air Bedroom Machine™ is designed to help you sleep healthy!

The Austin Air Bedroom Machine was designed specifically to help people who have difficulty sleeping. Its 5-stage filtration system is clinically proven to keep the air in your bedroom clean, safe and free from airborne contaminants.
How does it work?

The Austin Air Bedroom Machine™ has 5 stages of filtration, for all-round ultimate protection.
The first filter traps larger pollutants such as dust, hair, and pet dander. In short, the large pollutants we can see.
The second stage of filtration takes care of medium-sized particles, such as mold, spores, and pollen.
The third stage of filtration uses a blend of Activated Carbon and Zeolite for the removal of chemicals, gases, and odors
The fourth stage of filtration uses Medical Grade HEPA. HEPA removes 99.97% of all particles larger than 0.3 microns and 99% of all particles larger than 0.1 microns, this includes viruses, bacteria and allergens.
The fifth stage of filtration uses a military-grade HEGA carbon cloth for extra protection against viruses, bacteria, chemicals, and gases.
Austin Air's unique 360-degree intake system
Unlike other brands, Austin Air uses a 360-degree intake system. Drawing air into all sides of the filter like this ensures maximum cleaning capacity. We are also the only air purifier constructed using solid steel and a non-toxic powder-coated paint. No plastic, no polystyrene, and no off-gassing.
Unrivaled filter life

We are the only air purifier with a 5-year filter life. No other air purifier comes close to this.
Sleep like a baby with Austin Air!

Improve the quality of air in your bedroom and get the good night's sleep you deserve, with the Austin Air Bedroom Machine.
Be sure to speak to one of our expert reps to help you with further assistance in picking the best vacuum for your needs.
703-997-9292

You can visit us at:
11110 Lee Highway, Fairfax, VA 22030 (in Fairfax City, VA) or
300 Fort Evans Rd, Suite 104, Leesburg, VA 20176 (Town of Leesburg, VA)
#austinair #airpirifier #helpwithsleep #goodsleep #breathebetter #bedroommachine #madeinusa #shoplocal #airpurifier #shoplocal