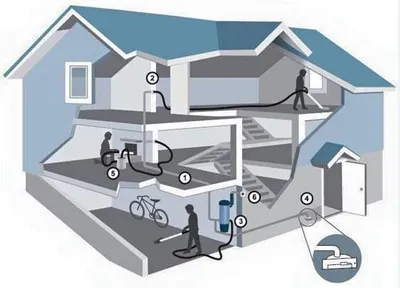 Traditional Vacuums Vs. Central Vacuums
Vacuuming is an essential part of keeping a clean and tidy home. While traditional vacuums have been around for decades, central vacuums have become increasingly popular in recent years. In this blog, we will compare traditional vacuums and central vacuums to help you decide which option is best for you.
Traditional Vacuums

Traditional vacuums are portable, stand-alone units that are carried around the home to clean floors and furniture. They are typically small, lightweight, and easy to maneuver. They come in a variety of styles, including upright, canister, and stick vacuums.
Pros
:
Affordable
: Traditional vacuums are relatively inexpensive compared to central vacuums.
Portable
: Traditional vacuums are easy to carry and maneuver, making them great for cleaning hard-to-reach areas.
Widely available
: Traditional vacuums can be found at most home goods stores, making them easy to purchase and replace.
Cons:

Limited power: Traditional vacuums have limited power, which can make it difficult to clean carpets and other heavy-duty cleaning tasks.
Noise: Traditional vacuums can be noisy, which can be disruptive in a busy household.
Dust and debris: Traditional vacuums can release dust and debris back into the air while cleaning.

Central Vacuums
Central vacuums are built-in vacuum systems that run through the walls of a home. They typically have a large, central power unit located in a basement, garage, or utility room, with inlets installed throughout the home.

Pros:
Power: Central vacuums have a powerful suction system, making them great for cleaning carpets and heavy-duty cleaning tasks.
Quiet: Central vacuums are much quieter than traditional vacuums, making them ideal for homes with open floor plans or shared living spaces.
Better air quality: Central vacuums trap dust and debris in a central location, keeping the air in your home clean and free of allergens.
Durable: Central vacuums are built to last, with many systems lasting for years without needing repairs or replacement parts.

Cons:

Cost: Central vacuums are more expensive to install and maintain compared to traditional vacuums.
Permanent installation: Central vacuums require professional installation, which is permanent and cannot be easily moved or changed.
Limited portability: Central vacuums are not portable, making it difficult to clean hard-to-reach areas or to take the vacuum with you when you move.

In conclusion, the choice between a traditional vacuum and a central vacuum depends on your specific needs and budget. Traditional vacuums are a great option for those who want an affordable and portable cleaning solution, while central vacuums are ideal for those who want a powerful, quiet, and low-maintenance cleaning system. Consider your needs, budget, and lifestyle before making a decision, and you'll be sure to find the perfect vacuum for your home.
#TraditionalVacuums #CentralVacuums #PowerfulSuction #QuietCleaning #AirQuality #Affordable #Portable #EasyToUse #Durable #VacuumComparison #AceVacuums #ShopLocal #MDCentral #Riccar #NuTone