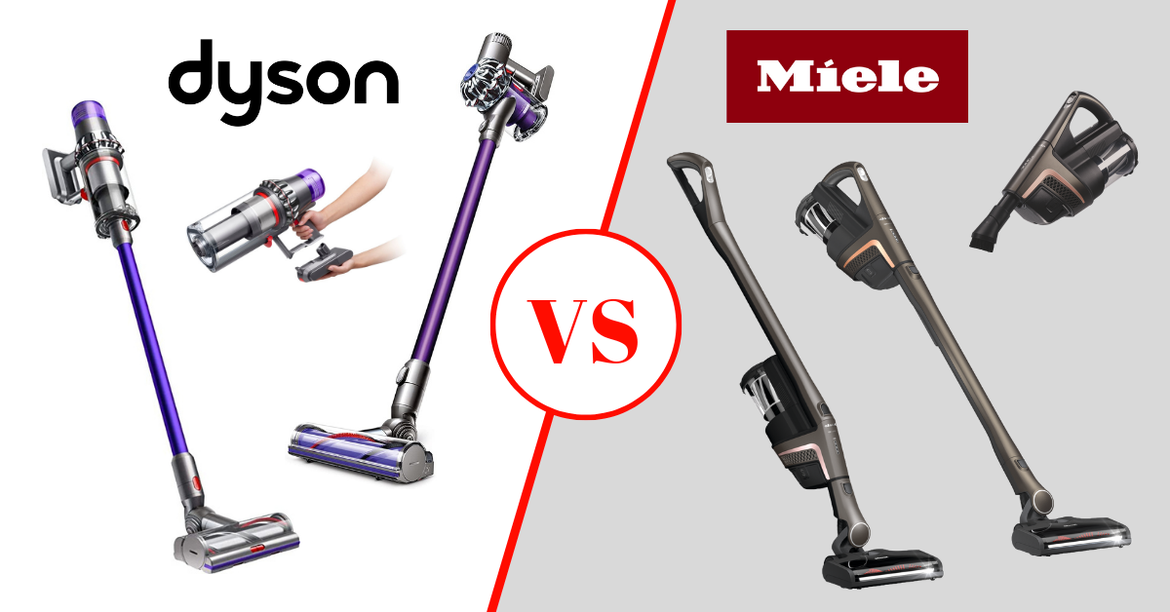 Unveiling the Superiority of Miele Triflex HX2 Over Dyson Cordless Vacuums
In the ever-evolving world of home cleaning, the battle between Miele Triflex HX2 and Dyson cordless vacuums has been heating up. Both brands offer cutting-edge technology and convenience, but when it comes to the ultimate cleaning experience, there's one standout winner: Miele Triflex HX2, available exclusively at Ace Vacuums.

The Triflex Advantage

1. Unmatched Cleaning Performance
Miele Triflex HX2 redefines cleaning with its powerful Vortex Technology, ensuring a deep and thorough clean across all floor types. Its exceptional suction power and high-efficiency filters capture even the finest particles, leaving your home allergen-free and pristine. Dyson cordless vacuums may offer similar power, but the Triflex HX2's superior engineering leads to consistently impressive results.

2. 3-in-1 Versatility
While Dyson vacuums are known for their versatility, the Miele Triflex HX2 takes it up a notch. Its innovative design allows you to easily transform it into three distinct modes: Reach, Comfort, and Compact. Whether you're tackling floor surfaces, reaching into tight corners, or cleaning above-floor areas, the Triflex HX2 adapts seamlessly to your needs.

3. Longer Battery Life
Miele's dedication to performance doesn't stop with cleaning power. The Triflex HX2 boasts a longer battery life compared to many Dyson models, ensuring that you can complete your cleaning tasks without interruption. No more recharging mid-clean!

4. Quiet Operation
Say goodbye to the high-pitched whirr of traditional vacuum cleaners. The Miele Triflex HX2 operates at a significantly lower noise level than most Dyson cordless vacuums, allowing you to clean without disrupting the peace of your home.

5. Exclusive Availability at Ace Vacuums
Ace Vacuums takes pride in being the exclusive retailer of Miele Triflex Homecare Vacuums. You won't find this exceptional cleaning powerhouse anywhere else. As a local business, we understand the importance of quality and personalized service, and we're committed to bringing you the best products for your home.

6. Warranty and Authorized Repair Center
When you purchase a Miele Triflex HX2 from Ace Vacuums, you're not just getting a vacuum; you're getting peace of mind. Every Miele Triflex HX2 comes with a comprehensive warranty, ensuring that your investment is protected. Plus, as an authorized repair center for Miele vacuums, Ace Vacuums has the expertise to keep your vacuum running smoothly for years to come.

Why Shop Local

Choosing to shop at Ace Vacuums supports your local community and economy. As a locally-owned business, we are deeply rooted in the area and genuinely care about our customers. When you shop with us, you're not just a transaction – you're a valued member of our community.

In the showdown between Miele Triflex HX2 and Dyson cordless vacuums, the Triflex HX2 emerges as the clear victor. With superior cleaning performance, innovative design, longer battery life, and exclusive availability at Ace Vacuums, it's the ultimate choice for a cleaner and healthier home. Remember, your cleaning journey is more than just a purchase – it's an investment in quality, convenience, and the joy of a cleaner living space. Choose Miele Triflex HX2, choose Ace Vacuums, and experience a new standard of home cleaning excellence.