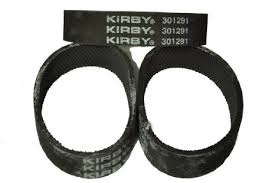 vacuum cleaner belts
Are you looking for the right belt for your vacuum cleaner? Did you know a vacuum cleaner belt plays a major role in giving a deep cleaning on your carpets? Do you know its important to replace the belts every 6 months or so for the best performance. We at Acevacuums, carry all kinds of belts for all vacuum cleaner makes and models. Call us 1 888 606 8885 or visit one of our stores for details.Here are some information about vacuum cleaner belts. There are essentially 3 different kinds of vacuum cleaner belts referred as Geared, Grooved, and Smooth.
A geared vacuum belt has what appears to be teeth on the inside. This type of belt is usually found in latest canisters like Miele, Riccar, Electrolux, Kenmore and other makes. This type of belt can last for years. Most people don't change this type of belt until it breaks, but it's a good idea to check it at least once a year for wear.
A grooved belt (the inside of the belt has grooves "engraved" on the inside of the vacuum cleaner belt). This belt can be found in some of the Hoover and Riccar Uprights. It is becoming more popular, but hardly commonplace at the moment. Like the geared belt, it doesn't stretch substantially and you should check it at least every 6 moths for wear.
A smooth vacuum cleaner belt may be round or flat. Either way it is smooth on the inside. This type of belt should be replaced every 6 months to a year. It is important to change this type of belt to maintain the performance of your vacuum cleaner. A smooth vacuum belt will stretch over time, which means your roller won't spin as often or possibly at all when it's on a carpeted surface. Your carpet pays the price for this, as sand, dust, dirt, and whatever else find it's way into your carpet remains in your carpet. Your carpet will not be as clean as it should be. It would make sense to buy a few belts at a vacuum cleaner store.
Another benefit to changing the vacuum cleaner belt is the opportunity to clean the roller. This is a perfect time to remove everything that has wrapped itself around your roller. Cleaning a vacuum roller often might prevent you from having to buy a new one down the road.If you change the vacuum belt yourself, make sure the vacuum switch is off and UNPLUG THE VACUUM CLEANER. Changing a belt can range from being a very simple to an almost difficult task, depending on the vacuum. Changing a belt also demands a little bit of hand strength. If you aren't comfortable changing a belt in your vacuum cleaner, visit our local stores located at 11110 Lee High Way, Fairfax, VA 22030 : Tel 703 997 9292 X 1 in Fairfax County. Or 954 Edwards Ferry Road, Leesburg VA 20176 : Tel 703 997 9292 X 2 at Loudoun county. If you are not able to visit our stores call us at 1 888 606 8885 for free technical support or place the order for the belts and get same day Free shipping.