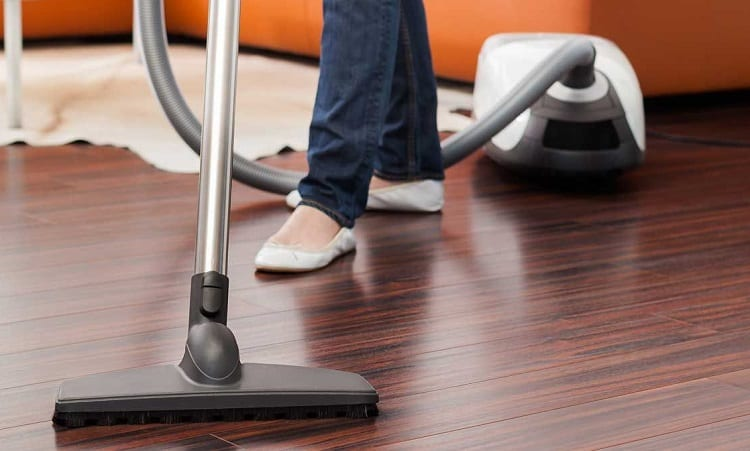 Vacuum Cleaners For Bare Floors
Homeowners with hardwood or any other form of bare flooring should invest in a floor vacuum cleaner that will effectively clean the floors without damage.
Swiffer or other sweepers may have been used on these floors, but they are no substitute for a good vacuum cleaner. Sweepers move the dust around by stirring it up. Vacuum cleaners quickly suck up dust and debris and heavy dirt and soil.
Vacuum Features to Consider for Bare Floors
Central vacuum systems, for example, generally offer attachments for every surface and cleaning requirement. But if this is not an option, there are some other things to look for.
Bare Floor Mode
"Bare Floor" mode allows you to turn off the roller brush while still suctioning, or a squeegee behind the roller works as anti-scatter protection on some models like the Sebo Upright Vacuum Cleaner Automatic X4. This is the most vital attribute to look for in an upright vacuum for bare floors.
Sweep & Suck
A special attachment called the Bare Floor Tool is available on canister vacuums and a few crosses over uprights. This is a bristled wide nozzle that will stir collected material from the smooth surface or out of gaps without damaging your lovely flooring. You can find such vacuum cleaners at our vacuum store in Calgary.
Variable Motor Speeds
You may enhance the efficiency of your vacuum cleaner on bare floors by increasing suction/vacuum on hard surfaces or adjusting the speed of the roller brush.
Consider Floor Finish
Every floor is different, and the way it's completed will determine which vacuum cleaner is best for your home. A machine that merely shuts off the brush will not reach deep enough into the fissures and various surfaces if the surface finish is harsh, such as natural stone or travertine. The vacuum wheels that will encounter your flooring are also crucial. Non-marking rubber-coated wheels are required since plastic wheels can mark, scrape, and gouge the surface.
Feature Packed Vacuum Cleaners
Vacuum cleaners that work just as hard on your bare floors as it does on your carpets are available. Some manufacturers make separate carpet vacuums that you can connect with a portable canister for bare floors or a slew of junk attachments that change your carpet vacuum into a bare floor machine which requires a lot of effort.
Ready to Choose the Right Vacuum Cleaner?
To pick one wisely, you may need the help and guidance of professionals as there are many vacuum cleaner models available. For that purpose, we suggest Ace Vacuums, our vacuum store in Northern Virginia. We offer a range of brands and are always willing to help you find the right vacuum cleaner for your needs.
From new and rebuilt vacuums to maintenance, repairs, and components, Ace Vacuums has it all. We are also the only European distributor for Nilfisk's HEPA built-in central vac systems and major dealers for Miele and SEBO, two German top-of-the-line manufacturers.
Vacuums for Bare Floors
In conclusion, the best approach to avoid regretting your vacuum purchase is to choose the proper model for your needs and study reviews before purchasing. Invest in a high-quality vacuum cleaner, and you'll reap the benefits for many years
#barefloorvacuums #vacuumsforfloors #canistervacuums #hepavacuums #hardwoodvacuums #novavacuums #shoplocal #shopsmall #acevacuums