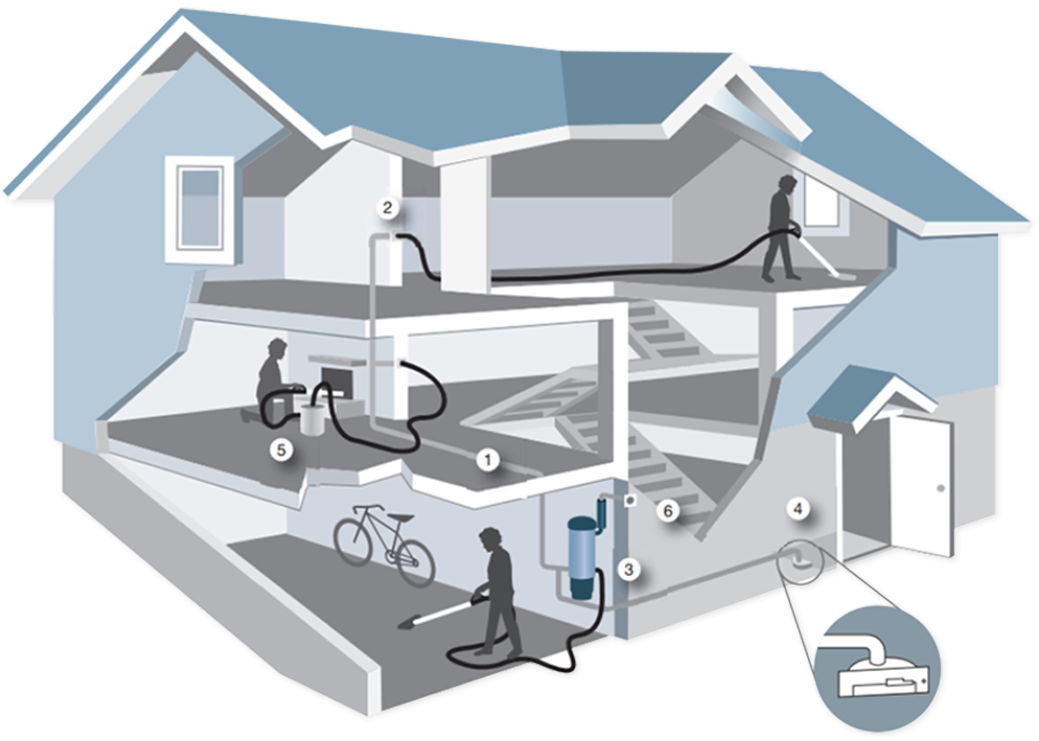 Why Are Central Vacuums Systems The Best?
The internet is your friend. This could not be more true when searching for Central Vacuum Store near me. Let's face it, most people are not browsing around and casually come across central vacuum systems they want to purchase. However, If you are fortunate enough to have one installed in your house you realize how much you love them. We are your local central vacuum store located at
11110 Lee Highway, Fairfax, VA 22030.
Here are some reasons why you too will love your local central vacuum store!
Why Are Central Vacuums Systems The Best?

We know that vacuuming our homes is not something we love to do. If you absolutely hate it perhaps you would be interested in a robot vacuum that does it for you! We have those available as well. Back to central vacuums. A traditional canister vacuum or upright vacuum can do a terrific job in your home.
Most quality vacuums come with HEPA filters and are powerful to pull the small dust from between your hardwood floorboards. When you run a portable vacuum in your home, while the exhaust is filtered, it does kick up the dust. This means that as you vacuum you are kicking up dust, which will settle down later when you are done vacuuming.
This is where a central vacuum system is different. The motor, filter, and exhaust are installed usually in a garage. So when you are vacuuming your home you are getting the dirt and dust without kicking up fine dust throughout the home. Since the motor is installed outside the living area, you will find the vacuum almost silent inside the home except for the whooshing of air-sucking up dirt in your home. If you have allergies or are sensitive to dust, you will find a central vacuum will greatly help reduce allergens.
Which Central Vacuum Do We Recommend?

While there are several on the market our favorite is the Cyclo Vac central vacuum. We sell, install and service these central vacuums and have for years. If you have another brand, we can help you as well. Another great feature of central vacuums is the lightweight hoses and the retractable Hide-a-Hose our clients love.
If you have a new home in the area with a Cyclo Vac installed, there is a great chance we installed it. If you are not familiar with the Cyclo Vac models and features, or if you are considering adding one to your home, stop into our store in Sarasota. We have one installed in the showroom for you to try out including the Hide-a-Hose.
Usually, the best time to install a central vacuum is when your home is under construction. That doesn't mean you can't add it to an existing house. We do retrofit to replace existing systems, or to add new ones altogether. Stop in or give us a call and we can arrange to answer questions and see if a central vacuum is the best option for your home.
Are You Only A Central Vacuum Store?

No, we are your local vacuum store. We sell SEBO, Miele, Simplicity, Ricar, Readivac, Cirrus and many more. We have the amazing Austin Air Purifier from Cyclo Vac. This thing is quiet and really cleans the air. We have an entire section in the showroom with cleaning tools for tile to hardwood floors. If you have not tried out the Hizero Mop, we have them and the reviews for this product are fantastic. Cut your cleaning time in half or more for your hardwood and laminate floors. At the same time, your floors maybe even cleaner than before. We have filters in stock for just about any vacuum you might have.
By the way, also offer vacuum cleaner repairs and service along with Air Purifiers.
Be sure to speak to one of our expert reps to help you with further assistance
:
703-997-9292
You can visit us at:

11110 Lee Highway, Fairfax, VA 22030 (in Fairfax City, VA) or
300 Fort Evans Rd, Suite 104, Leesburg, VA 20176 (Town of Leesburg, VA)
#cyclovac #centralvacuums #shoplocal #acevacuums #vacuumblog #vacupedia #madeinusa #cleanhome #inhousesystem #vacuumsloution #centralvacuumshop #centralvacuumservice #centralvacuumssytems #centralvacuumva #centralvacinstall