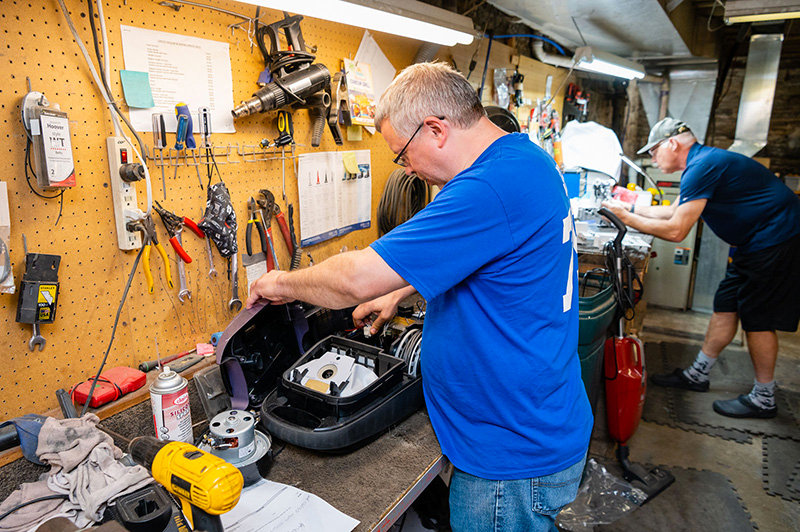 Why you should service your Vacuum regularly
If you're a homeowner, you know how important it is to keep your house clean and tidy. And one of the most essential tools you have to help you achieve that is your vacuum cleaner. However, even the most reliable and durable vacuum cleaners can experience problems over time. To avoid these issues and keep your vacuum cleaner functioning efficiently, it's important to have it serviced annually by a professional. And when it comes to vacuum services, Ace Vacuums is one of the best companies to consider.
Here are some of the reasons why you should get your vacuum serviced annually by Ace Vacuums:
Improved Performance
: Regular vacuum servicing can help your vacuum cleaner to perform at its best. During the annual servicing, a technician will thoroughly clean the vacuum's filters, belts, brush roll, and other components. This process will help to remove any dirt, dust, and debris that may be clogging the system, thus improving its suction power and overall performance.
Preventive Maintenance
: An annual vacuum service can help prevent problems before they arise. A professional technician will be able to identify any potential issues with your vacuum cleaner and fix them before they turn into larger problems. By doing this, you'll avoid costly repairs or having to replace your vacuum cleaner altogether.
Longer Lifespan
: Regular vacuum servicing can help extend the lifespan of your vacuum cleaner. A well-maintained vacuum cleaner will last longer and perform better than one that is neglected. By having your vacuum serviced annually, you'll be able to enjoy its full potential for many years to come.
Healthier Environment:
A clean home is a healthy home. A well-maintained vacuum cleaner will remove more dirt, dust, and allergens from your home, thus improving the air quality and reducing the risk of respiratory issues. An annual vacuum service from Ace Vacuums can help ensure that your vacuum cleaner is doing its job effectively.
Convenient Service
: At Ace Vacuums, you can expect top-notch customer service and convenient scheduling options. You can drop off your vacuum cleaner at their store, or they can come to your home to service it. They also offer a quick turnaround time, so you can get your vacuum back in working order as soon as possible.
In conclusion, an annual vacuum service from Ace Vacuums can help keep your home clean, healthy, and comfortable. By improving the performance of your vacuum cleaner, preventing potential problems, and extending its lifespan, you'll get more value out of your investment. And with their excellent customer service and convenience, it's an easy decision to make. So, don't hesitate to schedule your annual vacuum service with Ace Vacuums today.
#AceVacuums #VacuumService #HomeMaintenance #CleanHome #HealthyHome #PreventiveMaintenance #LongerLifespan #ImprovedPerformance #ConvenientService #AirQuality #AllergyControl #CustomerService #Homeowners #HouseholdTips #AnnualService #VacuumCleaner #HomeCleaning #HouseCleaning #Housekeeping #ProfessionalService #ExpertTechnicians #IndoorAirQuality #HomeImprovement